Posted by Shawna on Monday, Apr 3, 2017
Help welcome the Iowa City Public Library Bookmobile to town and check out materials from the Antelope Lending Library at the community National Bookmobile Day Celebration at Mercer Park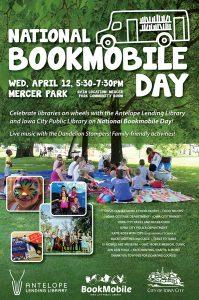 Wednesday April 12th from 5:30 - 7:30.  Celebrating with us will be other vehicles that provide important mobile services such as a fire truck, police car, University of Iowa Mobile Clinic, University of Iowa Mobile Museum, Table to Table van, an IC Transit bus, and more!
Enjoy live music performed by the Dandelion Stompers and free activities courtesy of Zen Den, BackTogether Massage, Katie Ross with ZIPS (Zines in Public Schools) and join in on a book making activity led by Iowa City Parks and Recreation. Have your face painted, make a craft (there will be many to choose from!), get your hands on the bookmobiles' summer schedules, and nab a special bookmobile-themed giveaway.
With the ICPL Bookmobile's Summer Schedule start date of June 1st on the horizon, we can't wait take our new bookmobile out for a spin. There won't be books on board quite yet, so take this chance to get a unique peek at our freshly built Bookmobile. We hope to see you there!
Categories