Shawna
Shawna
My Lists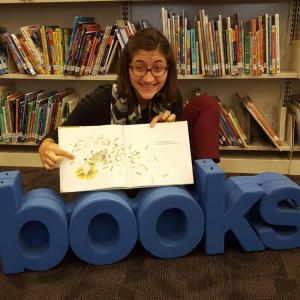 Interests:
Horror, Suspense, Thriller, True Crime, Crafts, Cookbooks, Gardening, History, Biographies
About Me
Title: Bookmobile Assistant
Where you'll see me in the library: On the Bookmobile, and on the first floor of the Library at the Help Desk and at the Children's Desk.
Do you have pets? I have two pugs, Frank and Fifi who are truly my fur babies. I also have two cats, Yossarian and Jonesy. When I read at home I am usually surrounded by a combination of some, if not all four animals.
What are your hobbies? I enjoy a variety of crafting - knitting, crochet, cross stitch and I am a novice embroiderer. I also enjoy cooking, gardening, and recently have been trying my hand at home canning. My favorite evenings are spent at home watching scary movies.
Favorite place to read as a child? If the weather would allow, I loved to sit on the small side porch of my family's home and read outside. Stephen King has been my favorite author from 4th grade onward, so I would often get sunburned while reading his books for hours in that location.