Posted by Kara on Monday, Nov 30, 2015
At the Iowa City Public Library we're always looking for ways to improve services for our patrons. Beginning soon, we will begin eMailing "Enhanced Notices" to help our patrons with their Library Card accounts. The eMails will come from the eMail address "libraryaccountnotice@icpl.org"
Notices include:
*It's Time to Renew your ICPL Library Card: Library Cards routinely expire, if you wonder why please check out this BLOG post. We will send a courtesy reminder to everyone in our service area (Iowa City, rural Johnson County, University Heights, Hills and Lone Tree) when their Library Card is about to expire.
*Don't Lose That Hold: A reminder a hold will be pulled from the Holds Shelf in two days.
*You are Approaching the Fine Limit: A reminder that fines are approaching $10. Most card privileges are suspended when fines exceed $10.
*The Coolest Card in Town: A reminder for patrons who applied online for a Library Card but didn't stop by the Library to pick-up their card.
Here's a sample of what the eMail looks like for Library Accounts that will expire: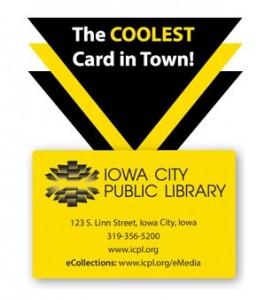 Greetings from the Iowa City Public Library
This is a routine check of the contact information in your Library account.
The account belonging to PATRON NAME will expire in seven days. An expired account means you cannot check out or renew materials, place holds or download digital materials.
To renew your account, you may
Visit the Help Desk at the Library -OR-
Call 319-356-5200 during regular Library hours -OR-
Reply to this eMail message. If eMailing, please indicate if there are changes to your account information below or if it is all correct.
Please note:
Your library card will not change--please keep your card.
Staff respond to eMails during regular Library hours and will follow up with you within seven days.
Thank you for using the Iowa City Public Library.
21977001234567
Cardholder Name
Address
Iowa City, IA 52240
319-123-4567
eMail@gmail.com

Library Cards:

 icpl.org/cards • 

eCollections:

 icpl.org/eMedia
123 S. Linn St. Iowa City, IA 52240 • 319-356-5200 • www.icpl.org
Monday-Thursday 10-9 • Friday 10-8 • Saturday 10-6 • Sunday 12-5
Categories
Recent News