Posted by Kara on Friday, Dec 8, 2017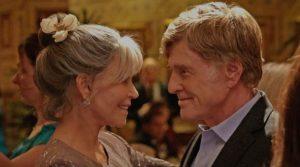 Kent Haruf is one of my favorite authors. His death from lung cancer in 2014 was a tragedy because it meant no more lyrical novels detailing the life and landscape of Eastern Colorado. Haruf was an Iowa Writer's Workshop graduate and drew details from his life experiences to bring his characters to life. Haruf finished writing his final novel, Our Souls at Night, just before his death. I found the lyrical book delightful but haunting - I knew it would be the last Haruf book I would read and I didn't want it to end.
I was haunted in a different way recently when I finished watching Season 3 of Grace and Frankie on Netflix. I'm not much of a TV watcher, but I am guilty of binge watching on Netflix - they make it so easy. At the end of Grace and Frankie, an ad popped up for a new Netfix Original starring Jane Fonda and Robert Redford ... Our Souls at Night! I wouldn't normally recommend watching a Netflix movie over checking one out at the Library, but this was a wonderful movie. It made me want to read the book again.
(PS ... Watch the trailer for the movie ... you'll be glad you did!)
Recent News