Posted by Kara on Monday, Aug 21, 2017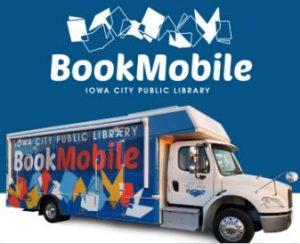 A quick reminder the Bookmobile is not out this week due to scheduled maintenance, staff training and preparations for the Fall Schedule which begins on Monday August 28. To see the Fall Schedule, navigate to icpl.org/bookmobile and click on the "Fall" tab.
If you are missing the bookmobile, click HERE for a great song written by Marc Falk celebrating the Bookmobile. It's a catchy tune that may get stuck in your head for a bit. Just in case, the lyrics are below if you want to sing along.
We'll see you next week on the Bookmobile :)
We're Going to the Bookmobile" – written and performed by Marc Falk
LYRICS: [Chorus] We're going to the Bookmobile You know it's a real big deal It's like a library, but it's on wheels It's the Bookmobile
You might see it driving around Going up one street then going down I think it's coming to your town It's the Bookmobile
[Chorus]
It's got a lot of books inside Places to read, places to hide Librarians go for a ride In the Bookmobile
[Chorus]
It's got a lot of DVDs Rock 'em, sock 'em movies You can check them out if you ask them please At the Bookmobile
[Chorus]
All around the town it roams It's got a lot of books to loan You can check them out, you can take them home From the Bookmobile
[Chorus]
It's the leader of the pack Bringing books to you right on track When you're done you got to bring them back To the Bookmobile
[Chorus] You can play with Frog and Toad Oliver Twist, or Old Tom Joe Jack Kerouac goes On the Road In his Bookmobile
[Chorus]
Spell B-O-O-K-M-O-B Follow up with a I-L-E Drivin' around Iowa City It's the Bookmobile
[Chorus] x2
Yeah, yeah, yeah, yeah
Video link: https://youtu.be/xWjTVd52ijA
Recent News