Posted by Anne W on Friday, May 4, 2018
In honor of National Children's Book Week, a special storytime was held this week at Emerson Point Assisted Living.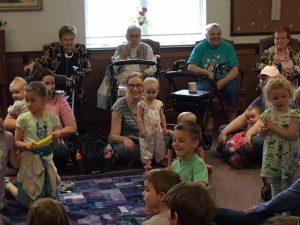 Children of all ages came with their parents and arrayed themselves on the floor in the activities room. Behind them, care facility residents sat in a large half-circle of chairs.
We started with books, songs, and rhymes, focusing on classics that all ages were likely to know - we read oversized book versions of Little Red Hen and The Three Little Kittens, recited some nursery rhymes with the help of flannel board pictures, and sang "Old McDonald," "The Grand Old Duke of York," "Row, Row, Row Your Boat," and others. Erin Moore, the activities director at Emerson Point, accompanied the singing on her guitar.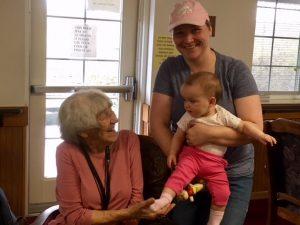 After enjoying stories together, snacks were laid out. A May basket craft incorporating watercolors and sparkly pipe cleaners was also available. Parents, children and residents mingled, chatted, and made connections as they felt comfortable - though there was no pressure to do so. Simply being together with community members in all phases of life offered social benefits to all in attendance.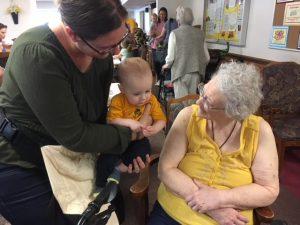 Around the country, a handful of public libraries hold periodic storytimes at nursing home facilities. There are even several preschools located within the walls of an elder care facility. A 2017 documentary film, Present Perfect, explores one such intergenerational learning center. Filmmaker Evan Briggs points out how "generationally segregated" American society has become - a phenomenon the preschools and events like this week's Intergenerational Storytime are trying to combat.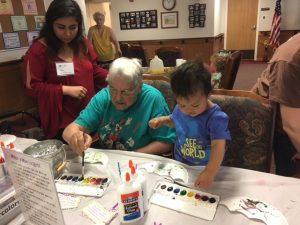 According to The Atlantic, "Numerous studies have linked social interaction with decreased loneliness, delayed mental decline, lower blood pressure, and reduced risk of disease and death in elders. Socializing across generations has also been shown to increase the amount of smiling and conversation among older adults, according to one Japanese study from 2013."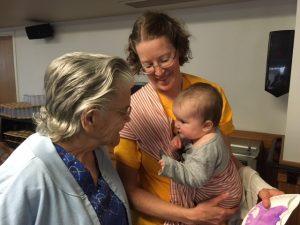 It was clear at ICPL's Intergenerational Storytime that the Emerson Point residents found the children a source of joy, and the parents, too, were enthusiastic. One mother commented that without grandparents living nearby, this was a rare and valuable opportunity for her toddler to have meaningful interaction with the elderly. Residents, in turn, were already asking if the children could come back another time.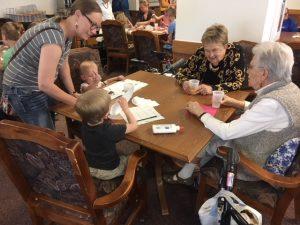 Categories