Posted by Anne W on Tuesday, Aug 1, 2017
It all started when I was combing through the milk crate of flannel board stories in our back room, searching for something to share at my Monday toddler storytime.  I stumbled upon a "House That Jack Built" story so old that its accompanying story sheet had been typed on a genuine typewriter; even better, the story was typed on the back of a children's room calendar from 1976!  I adore vintage paper ephemera, so my mind immediately began to race, imagining how I could create an entire storytime around this fascinating bit of library history.
Had my storytime been on a different day this week, I could have easily paired it with a pleasingly alliterative catchphrase: "Throwback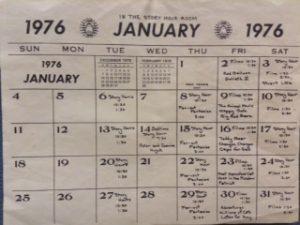 Thursday" or "Flashback Friday."  Even "Way Back Wednesday" might have worked in a pinch, right?  But alas, my storytime is on Monday each week, so I simply called it "Storytime: Old and New."
I shared the 1976 "House That Jack Built" flannel board story, handing out the many flannel characters to my toddler attendees ahead of time, inviting them to come forward and place their piece on the flannel board when their character appeared in the story: the "man all tattered and torn," the "cow with the crumpled horn" and the "priest all shaven and shorn" arrived on cue.  I paired this old flannel board story with a new one, that of Pete the Cat and his four groovy buttons, which is great for toddlers in that it's colorful, involves repetitive singing and counting, and teaches the Buddhist principle of non-attachment.
I showed everyone the retro calendar I'd found and then showed them a picture of the children's room in 1965, which I fo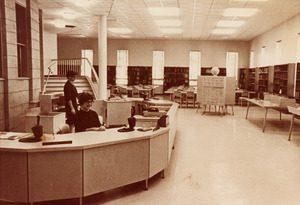 und on ICPL's Digital History Project.  Gratifyingly, the parents seemed as delighted as I was by these items.
I read an old book, Where the Wild Things Are by Maurice Sendak, and a brand-new one - Feathers and Hair: What Animals Wear by Jennifer Ward.  Children rang handbells and danced to an early '70s hit, "ABC" by the Jackson 5.  Interspersed throughout were songs and fingerplays that I chose because of their nostalgia factor for my own childhood - I vividly remember singing "Gray squirrel, gray squirrel, swish your bushy tail" at the now-defunct Jack and Jill Preschool.
Despite the regretful lack of a catchy title, I think we had a blast (from the past) anyway!