Posted by Shawna on Thursday, Jun 21, 2018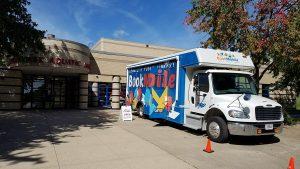 The Summer Reading Program is in full swing on the ICPL Bookmobile and everyone is invited to participate. The first step is to sign-up at home or in-person on the Bookmobile. For those signing up at home who want to participate in the Summer Reading Program via the Bookmobile, choose "Bookmobile" as your branch when you register. So far 14 babies, 114 kids, 6 teens and 22 adults have registered for the Summer Reading Program and listed the Bookmobile as their branch. Choosing the Bookmobile as your branch gives us an idea of how many prizes to stock on the Bookmobile, but we always carry extra so feel free to be flexible and pick up Summer Reading Program prizes at the most convenient location (Downtown or on the Bookmobile) for you.
Being on the Bookmobile is always a blast, but summertime is my favorite season to visit our Mobile Library. In addition to our regular stops, we also have Stories in the Park on Monday (Willow Creek Park), Wednesday (Wetherby Park) and Friday (Mercer Park) mornings at 10:30 AM. These stops include regular Bookmobile service along with a Storytime program. Throughout the summer, for an extra special Stories in the Park Storytime we will feature local performers and musicians on some days. See page 2 of our Summer Reading Program Activity Guide for more information about these special performances.
For some extra summer fun, find the Bookmobile at Party in the Park programs on Thursdays from 6:30-7:30. Each week, join the celebration at a different Iowa City park to hear live music, participate in kids crafts, see a fire truck, check out an item from the Bookmobile, and connect with friends and neighbors. For the full schedule of Party in the Park events, read more here.
We'll see you this summer on the Bookmobile!
Categories