Posted by Kara on Monday, Nov 11, 2019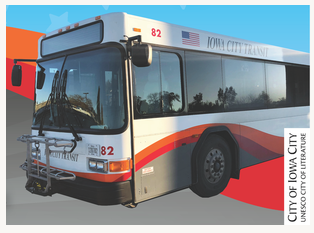 Area transit systems want to hear from YOU about what you want from our local transit systems. Iowa City Transit, Coralville Transit and the UI's CAMBUS service are currently working together to evaluate local transit systems. More information is available on the City's webpage.
There's a fun survey you can take to share information about your priorities for designing a transit system. There are also three open houses November 12-14 where you can learn more and share information with staff.
Iowa City Open House - Wednesday, Nov. 13, 6:30-8:30 p.m., Iowa City Public Library, Meeting Room A
Coralville Open House - Thursday, Nov. 14, 6:30-8:30 p.m., Coralville City Hall
University of Iowa CAMBUS Open House - Tuesday, Nov. 12, 5-7 p.m., IMU, Historic Iowa River Room, Room 341
Don't worry - if you missed these dates there will be more scheduled in 2020.
There is also an interesting podcast that shares information about local transit and the study.
Get involved with your community and share information about how you want to be served by your local transit systems.