Posted by Alyssa on Tuesday, Sep 12, 2017
Last December we released our mobile app called MyICPL and it has some great functionality for using the library. Here's a highlight of some of its features.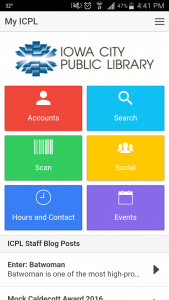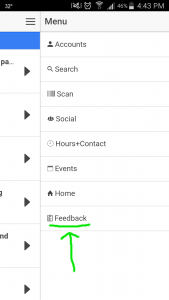 Manage Your Account(s)
If you're wanting to keep track of the items you have borrowed, the app will save your account information and you can check it as often as you need to. Have an item that is due soon? Renew it from within the app. Or if you are waiting for an item, see what your position is in the hold line.
Have kids? It's also handy if you want to keep track of due dates on multiple accounts. Add each account once and see all items in one list. You can make sure they are returning their books on time.
Find Upcoming Events
Check the events in the coming week at the Library. Find one you are interested in? Add it to your phone's calendar directly from the app.
Check Our Collection
There are a couple of ways to find out if we have something at the library. If you're looking at books in a bookstore, scan the ISBN barcode on the back of the book to see if we have it. You can also search by title if you don't have the book in hand. Looking for something we don't have? It will link you to the form where you can suggest we purchase it or ask to have it sent here from another library.
Problems or suggestions?
Let us know if you have features you'd like to see in the app or if you run into any issues with it. We're continuing to work on fixing bugs when we find them as well as implementing new functionality. There's a link to a feedback form in the app so you can easily contact us with app-related comments while you're using it.
Interested in trying it out? Download it from the Apple Store or from Google Play.
Categories