Posted by Shawna on Saturday, Apr 29, 2017
When you visit the Iowa City Saturday Farmer's Market this year you may notice one large new participant - Our brand new Bookmobile!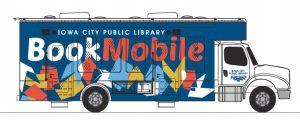 On Saturdays in May and June as you stock up on Farmer's Market goodies be sure stop by the Iowa City Public Library Bookmobile in the Chauncey Swan lot. As a Farmer's Market shopper and a library go-er, I am pumped about this pairing and I've been thinking of all the ways this could come in handy:
Maybe as you're browsing the stalls at the market you realize you are all out of reading material with a long weekend looming ahead of you - Don't fret! Stop by the Bookmobile and browse our collection of the latest and most popular library materials for all ages.
If you have library materials to return, feel free to bring them with you and drop them off at the Bookmobile, regardless of whether you checked them out on the Bookmobile or the Downtown library.
Picking up supplies for dinner? Don't forget to pick up a movie to pop in after your meal!
Though it is cool out this weekend, those hot summer days are coming. When you're looking for a break from the heat, hop onto our Bookmobile - You may even find an item to check out while you're there.
If you're like me, your shopping bags are likely sitting uselessly in your closet at home while you're juggling your purchases. The Bookmobile may have just the solution you need - for free! While supplies last, that is.
Wondering what on earth to do with those delicious looking but relatively obscure vegetables? Stop by and connect to our WiFi and watch a video on how to prepare a delicious meal. While you're there, check out a cook book to take home as well!
With just one more week to go until Farmer's Market season begins, I can hardly wait! To pass the time I may finally knit a new produce bag. Maybe I can find a how-to book next time I'm on the Bookmobile!
To find out where we will be this month, check out the Library's May calendar. The Bookmobile's regular summer hours begin June 1. To see our summer stops, visit our webpage, or stop into the Downtown Library and ask for a schedule brochure.
Can you think of any ways you look forward to using the Bookmobile this summer? Comment and let us know!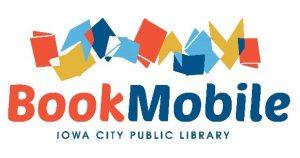 Categories