Posted by Anne W on Monday, Jan 27, 2020
The winner of this year's Newbery Medal for "most distinguished contribution to children's literature" is New Kid by Jerry Craft!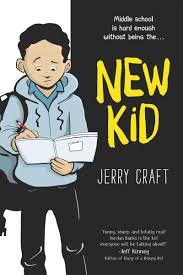 This is the first time in history a graphic novel has taken home the top prize for writing in American children's lit. New Kid is a stellar coming-of-age story that takes on institutional racism, the power of microaggressions, segregation, community, friendship, and finding where you belong.
From the publisher: "Seventh grader Jordan Banks loves nothing more than drawing cartoons about his life. But instead of sending him to the art school of his dreams, his parents enroll him in a prestigious private school known for its academics, where Jordan is one of the few kids of color in his entire grade.
As he makes the daily trip from his Washington Heights apartment to the upscale Riverdale Academy Day School, Jordan soon finds himself torn between two worlds—and not really fitting into either one. Can Jordan learn to navigate his new school culture while keeping his neighborhood friends and staying true to himself?"
During January, ICPL patrons had the opportunity to vote in our Mock Newbery Award at icpl.org/kids, selecting their top choice from a list of the probable contenders made by our children's librarians. ICPL's 2020 Mock Newbery went to Other Words for Home by Jasmine Warga, a novel in verse about the global refugee crisis. 
Thank you to everyone who voted in our Mock Newbery poll! For a full list of all of the American Library Association's 2020 Youth Media Awards winners, click here. Happy reading!
Recent News