Posted by Shawna on Friday, Feb 21, 2020
Break out your bracketology skills and make a Cinderella story all your own with ICPL Book Madness 2020! The Library is pitting your favorite books against each other in a March Madness-style bracket competition, and you have a chance to cash in.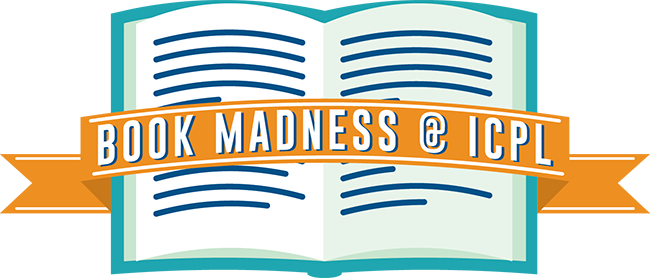 How does this work? Our staff have picked 64 novels from our adult/teen collections and 64 books from our children's collection. Brackets are available to be completed beginning February 17 and are due by Sunday, March 1. You can pick up a hardcopy of the bracket worksheet at the Library or print one off from our webpage. Completed brackets can be returned by March 1 to any desk in the Library, or to our "hoop" ballot box, which can be found at our Book Madness display on the first floor of the Library, near the Children's Room. Every week, the community is invited to vote, either online or in person, for their favorites in each section. 
After the championship, the person with the most correct brackets will receive a $25 gift card to Prairie Lights! Brackets will be updated every Monday until there's a Grand Champion! Stay up-to-date on each week's winners through the Library's news webpage and social media outlets.
This year's categories are:
Adults/Teens
Stories from America

Own Voice

Spy Thrillers

Celebrity Book Club Picks
Kids
Picture Books to Read Aloud

Novels and Stories to Read in Verse

Family Reads

Scary Stories
Make sure to mark these dates:
Feb. 17-March 1 -Brackets submission open
March 2-8 – Book Madness voting kickoff – Round 1
March 9-15 – Round 2
March 16-22 – Sweet 16
March 23-29 – Elite 8
March 30-April 5 – Final 4
April 6-12 – Championship Round
April 13 – GRAND CHAMPION is announced
Categories