Posted by Kara on Wednesday, Apr 18, 2018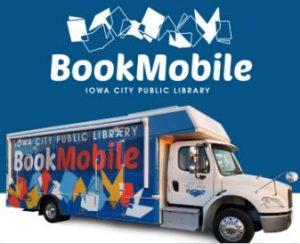 Spring will arrive ... someday. And that means we need to be prepared for severe weather.
If severe weather is imminent when the Bookmobile is in service, our primary concern is the safety of people visiting the Bookmobile and our staff members. Staff working on the Bookmobile monitor the weather and communicate with staff at the Downtown Library when needed.
In the event of a Severe Weather Warning when the Bookmobile is on the road, Bookmobile operations cease and all patrons must exit the vehicle. The Bookmobile either returns to the Downtown parking facility or staff will secure the Bookmobile and seek shelter.
SEVERE WEATHER WARNINGS ARE ISSUED AND SIRENS SOUNDS FOR:
Tornado          · 70 mile or greater per hour winds          · Golf ball-sized hail
Schedule updates are posted on the Library's webpage at icpl.org/bookmobile and calendar.icpl.org. Schedule information is also available by calling the Library at 319-356-5200 during regular Library hours.
Please keep in mind that if we are trying to return to the Library in the case of severe weather, there may be a delay in updating the calendar and webpage. Your best bet is to call the Library if you have questions about the Bookmobile schedule in times of severe weather.
Categories