Posted by Alyssa on Wednesday, Nov 22, 2017
I recently helped my mom pick out a new printer after her old one died. Not knowing which one she wanted, we headed to the Consumer Reports section on printers to see what models had the best ratings. With a couple of features she knew she wanted like good photo quality prints as well as duplexing in mind, it was helpful to see a quality rating comparison chart of various models as well as a breakdown of each printer's features.
If you have no idea what type you want or need, the product's Buying Guide is the best place to start. It gives you a break down of different types as well as various things to consider when buying. For printers there are two types - all-in-one printers or regular printers - and the Buying Guide also recommended keeping in mind how much maintenance costs might be, which for printers includes pricey ink cartridges.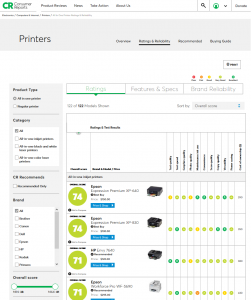 If you've used the print version of Consumer Reports before, you'll be familiar with the comparison chart for comparing the quality of different features. You'll find this under the Ratings and Reliability tab. The best part about the online version is that you can filter out based on your own criteria. Have a budget? Set the max price you're willing to spend. Need a feature? Filter out those that don't have it. It can greatly reduce the number of items you have to sift through when making your decision.
While my mom wouldn't let me buy her the printer for Christmas, she got one she was confident would be of good quality and a good fit for her needs. Whether you're gearing up for Black Friday deals or just looking for your next big purchase, browse Consumer Reports to see how products compare to make sure you're getting what you're looking for.

Consumer Reports is an online resource that covers a wide range of products including electronics like computers or cell phones to baby stuff like baby formula or car seats to household items like humidifiers or washing machines.
Categories