Posted by Shawna on Thursday, Aug 15, 2019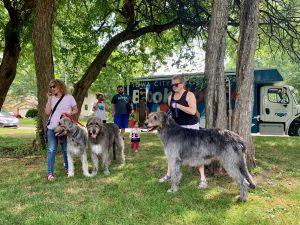 As we wrap up our last week of the Summer Schedule on the Bookmobile, now is a great time to think back to some Summer highlights and look ahead to Fall.
Throughout the Summer, our annual series, Stories in the Park, continued with stops at Willow Creek, Wetherby and Mercer Parks where a weekly storytime or special special program for youth was offered alongside the Bookmobile. Some memorable Storytime presenters included two friendly llamas, three sweet wolfhounds, two great goats, and many magnificent musicians. Staff were delighted to connect with families at these stops, as well as the occasional farm animal.
Another Summer Series the Bookmobile participated in this year was Party in the Park. Through this annual series, sponsored by the Iowa City Parks and Recreation Department and the Neighborhood Outreach Division, the Bookmobile visited a different local park every Thursday evening throughout the Summer. Party in the Park continues this Fall on Sundays, though without the Bookmobile. Visit www.icgov.org/pr for details.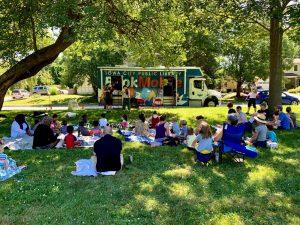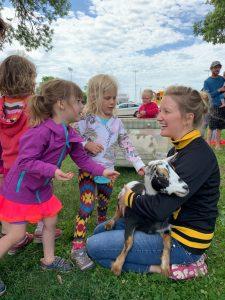 Stores are stocked with fresh notebooks and pencils, nights are cooling off, and soon it will be hard to avoid pumpkin-spiced flavors – Fall is nearly here. The Iowa City Public Library is welcoming the change in seasons with a new Bookmobile Schedule, which can be found on our website. The 2019 Fall Bookmobile schedule will run from August 26 – December 19, with all stops open and available to the public. While the Bookmobile is on a seasonal service break next week, take a moment to place holds and get ready to meet us on the road starting on August 26.
Categories
Recent News