Posted by Jason on Thursday, Nov 15, 2012
We're still looking for guys in Grades 5-8 to join our newest book club!  We're looking to match ICPL guys with books (and other readable things) in an interesting way. With pizza!  So if you're hungry for new reading discoveries (or just hungry) join Theo, Grayson, Joel, Oscar, and Jason this Saturday.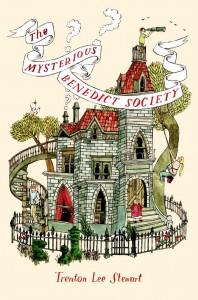 Our next meeting is this Saturday, November 17th from 12:00-1:00 p.m. upstairs in Meeting Room E (it's along the back wall past the Computer Lab). We'll be talking about the comic series Usagi Yojimba by Stan Sakai and/or The Mysterious Benedict Society by Trent Lee Stewart and illustrated by Carson Ellis.  Don't worry if you haven't read these before, we'll be doing other things as well and will vote on titles for the next meeting in December!
Guys Read, is a larger literacy initiative founded by children's author Jon Scieszka, and is designed to draw attention to boys' literacy and to help boys become self-motivated, lifelong readers.
No reservation required but if you think you'll come check it out then shoot me an email so I make sure to have enough food!
Questions? Email Jason at teens[at]icpl.org or call 319-887-6075.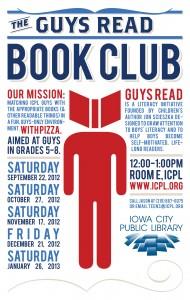 Recent News