Posted by Anne W on Wednesday, Jan 24, 2018
In 2014, the New York Public Library declared the fourth Wednesday in January to be National Library Shelfie Day - that's a day dedicated to snapping selfies in front of library shelves, of course! Launching an Instagram campaign encouraging library users to post "shelfies" alongside the hashtag #libraryshelfie, NYPL hoped to reach tweens, teens, and young adults - those demographics for which the selfie seems to be omnipresent.
Well, I'm a late adopter of the smartphone and not totally comfortable with the selfie as a concept, but I do love libraries and books. And I realized this morning that in just one day of work as an Iowa City Public Library children's librarian, I encountered numerous library shelves beyond the traditional downtown building. We are out in the community bringing the library to you!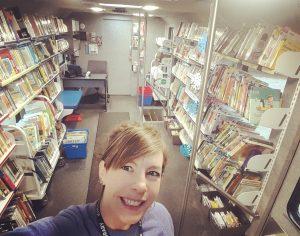 Here's my #libraryshelfie on the bookmobile!
Find our current bookmobile schedule here.
The bookmobile is a "boutique" library service - we have limited space, so only the best books make it to the shelves here. Better yet, new and popular books that are perpetually checked out at the downtown building can often be found on the bookmobile!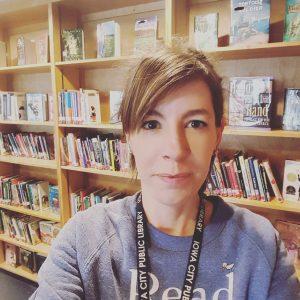 Next I snapped a #libraryshelfie in front of our outreach collection at the Pheasant Ridge Neighborhood Center. The Neighborhood Center serves as a family resource center for the residents of the Pheasant Ridge Apartments, where a large portion of Iowa City's immigrant and refugee population settles. The library maintains a collection here for residents to enjoy - and each month, we stop in and switch up the books on display, reshelve items, and ensure it's looking tidy and inviting. Find out more about the Neighborhood Centers of Johnson County here.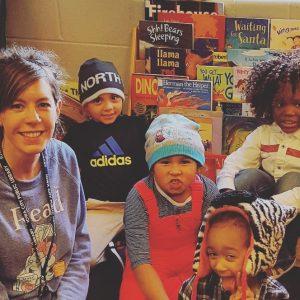 Then I went to Alexander Elementary School for storytime with the preschoolers there! Each month, ICPL children's librarians visit over thirty-five preschools to extend their classroom curriculum with early literacy activities and encourage them to visit the library with their families. At some sites, students also visit the bookmobile and select books for their classroom.
After I shared books, flannel board stories, fingerplays, and musical instruments with these kids, I asked them to pose for a #libraryshelfie in front of their classroom library!
And then I was back at the downtown library for one last #libraryshelfie. Happy Library Shelfie Day!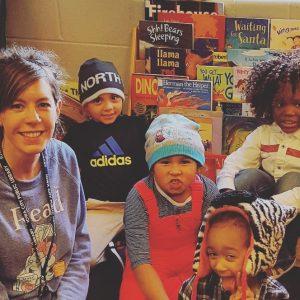 Categories
Recent News