Posted by Beth on Thursday, Feb 8, 2018
February. Even the word is cold. Winter can seem awfully long in the Midwest.  Especially when we get teased by a January thaw.  But there's no getting around it - it's still winter, and I'm starting to go through gardening withdrawal.  I'm ready for spring. After 25 years in Iowa however,  I've finally learned not to jump the season and just ignore the January thaw. I know I have to wait until at least April or early May for spring and gardening season.  But my hands are still itching to get back in the dirt.
Thankfully there is a way I can curb that itch: Houseplants.  Caring for my indoor plants - including dividing or repotting gives me a little taste of gardening to hold me over.  ICPL has quite a few new houseplant books to help me (and others) get through the winter.  So many in fact, that I'm going to break this into two posts:  Houseplants and Cacti & Succulents.
Houseplants: the complete guide to choosing, growing, and caring for indoor plants by Lisa Eldred Steinkopf.   This is a great book for anyone with houseplants. A well written easy to follow guide, it begins with a section on the basics of houseplant care.  What I liked most about this book is how the 150+ plant profiles in the second half of the book. She has grouped them into 3 categories: Easy to Grow Moderately Easy and Challenging. Each category starts with multiple pages of thumbnail images to help you figure out what plant you have.  Each plant profile has the common as well as botanical Latin name, a description, the plant's light and water requirements, propagation methods and cultivars.
Happy Houseplants: 30 lovely varieties to brighten up your home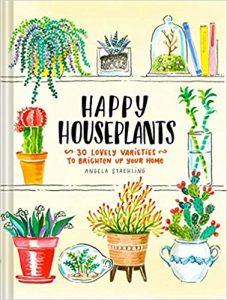 written and illustrated by Angela Staehling.  Combining her love of houseplants and illustration, Staehling has created a great beginners guide to 30  of her favorite easy to find and easy-to-grow houseplants. She starts with the tools and materials you'll need to work with houseplants and follows with plant profiles. From African Violets to Zebra Cactus the 30 plants she as included give beginners a great place to start.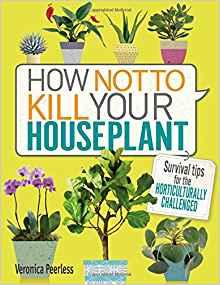 How Not To Kill Your Houseplant: Survival Tips for the Horticulturally Challenged by Vernoica Peerless. The title is not just a hook – Peerless has written a great guide for those of us who for one reason or another have no luck with houseplants.  Too much of the wrong kind of love or not enough of the right kind of light – there are many things that lead to plant demise. This book is helpful even If you're not sure what type of plant you have.  The book begins with close to 200 plant thumbnails to help you figure out what you have.  But what if you're thinking about buying your first plant?  Read the first few pages of this book first.  She'll give you things to look for in your potential new plant – plant size, soil and root condition, pests – all the things you should consider before buying a plant.  Then you'll find quick information about the basics: water, food, light, repotting and pests to watch out for.  Then you get to the wonderful main section of the book – the plant profiles  She breaks it down into the basic care "How Not to Kill It" things to watch out for, and what she calls "Share the Care:" suggestions for one or two other houseplants that have very similar requirements.
Recent News