Beth
Beth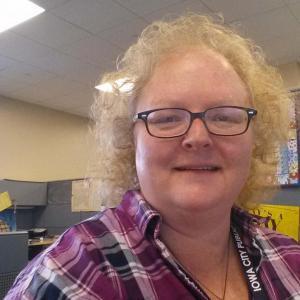 Interests:
Fiction, Mystery, Romance, Suspense, Crafts, Gardening, Young Adult
About Me
Title:  Program Librarian
Where you'll see me in the library:  I work at the Information Desk, the Help Desk and in the Digital Media Lab during Drop-in Tech Help. I teach some of the Genealogy workshops and I'll be at most of the Library Events & Programs for adults too, so I'm pretty much everywhere.
What do you like to read?   I read all kinds of fiction, and I can be mildly obsessive.  When I find a new Fiction author I like I will try to read everything they've written.  (Thank goodness for Interlibrary Loan!)  I read lots of non fiction too, especially books about my hobbies.
What are your hobbies?  I am a crafter - I'm never without a project of some kind going on.  I have lots of hobbies too: shade and prairie gardening, quilting, photography, home repair.
Do you have pets?  I have a cat who thinks he's a dog and a Coonhound/Boxer mix who thinks she's a rooster and has to be up as soon as the sky starts getting light in the morning. She and I spend most sunrises at the dogpark. 
Favorite book memory from childhood:  My dad would read to my brother and I every night before bed.  We made it through the entire Hardy Boys and Bobsey Twins series, but Nancy Drew I ready by myself - he read too slow!
Surprising Facts:  I was born and raised in the desert. I've been up in Hot Air Balloons multiple times. I'm an Iowa State Extension Master Gardener. Half my backyard is a prairie.