Posted by Anne M on Friday, Dec 3, 2021
Beginning Tuesday, December 7th, hoopla will be available at the Iowa City Public Library.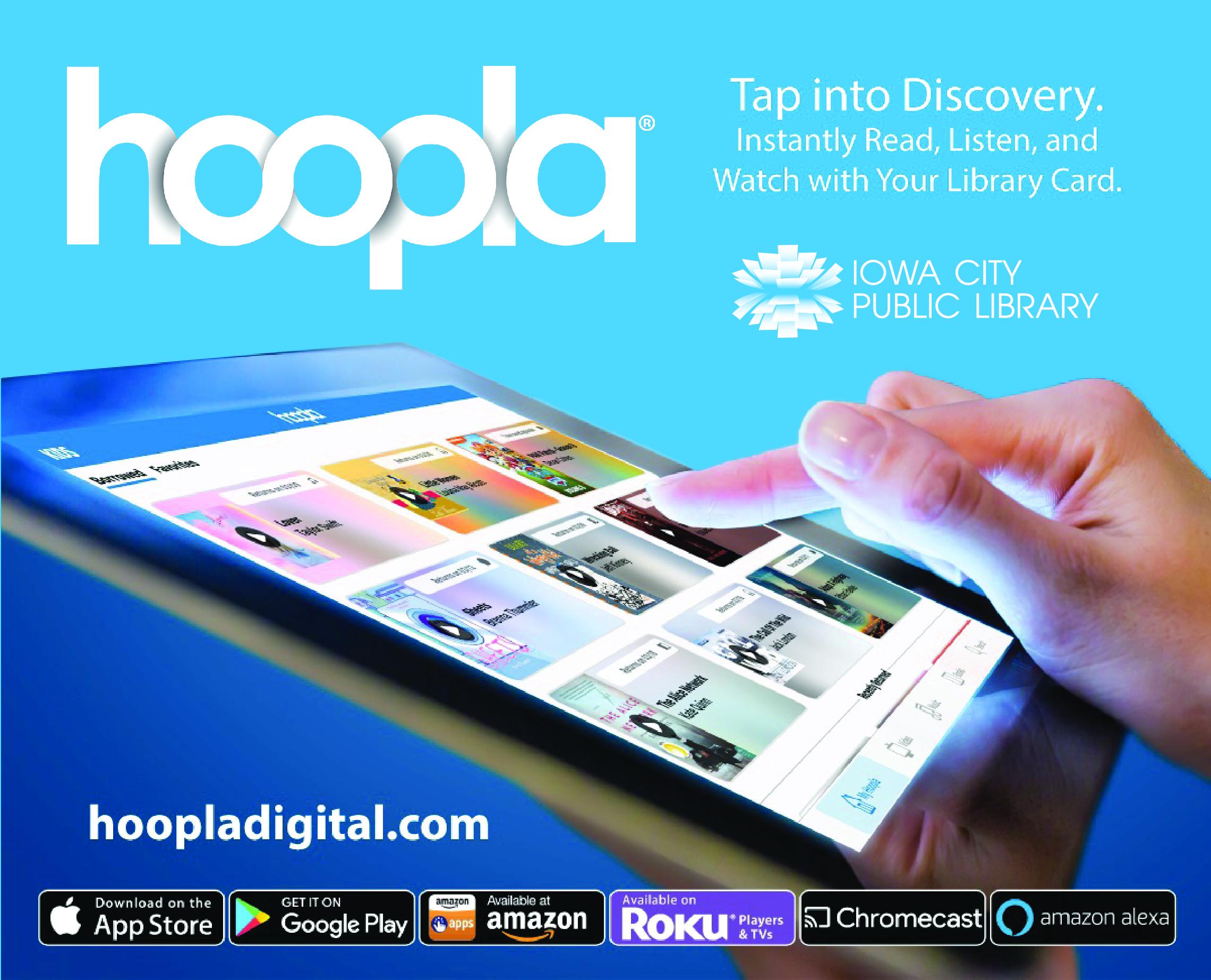 A digital library collection, hoopla offers over one million titles of movies, music, eBooks, audiobooks, and comics. Find a great selection of holiday movies, ACORN TV, movie soundtracks, science fiction and romance reads, and comics from DC, Marvel, Image, and much, much more. Everything you need to brave a Midwestern winter. Best of all? No holds.
ICPL cardholders that live in Iowa City, Hills, Lone Tree, University Heights, and rural Johnson County can use hoopla by going to hoopladigital.com. To sign up, you'll need your library card number, the password/pin for your card, and a valid email address. ICCSD students can use hoopla with their AIM card as long as they live in ICPL's service area.
Users can watch, listen, or read up to 8 borrows a month. Apps are available for iOS, Android, and Kindle Fire. hoopla also supports Roku, FireTV, AppleTV, and Chromecast as well as Amazon Alexa for music and audiobooks. Instructions on getting set up are available on the hoopla website. hoopla offers a variety of titles in over 75 different languages including Spanish, French, and Hindi. 
Once you borrow a title, you have a specific period of time to watch it. Depending on the format, borrowing periods are:
Movies and television: 3 days (for TV, you borrow by episode, not season)
Music: One week (full albums)
eBooks, audiobooks, and comics: Three weeks
hoopla is powered by donations to the Iowa City Public Library Friends Foundation.  
Interested in signing up? Learn how to get started with our Signing up for hoopla video. For more information or assistance, give us a call at 319-356-5200 or contact us through email or chat. 
Categories
Recent News