Anne M
Anne M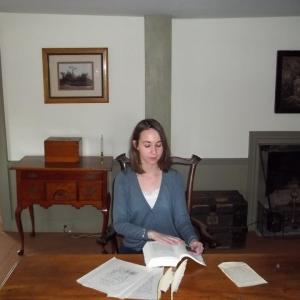 Interests:
Fiction, Historical Fiction, Classics, Mystery, Nonfiction, History, Cookbooks, Crafts, Biographies, Gardening
About Me
Title: Collection Services Coordinator
What do you like to read?I'm open to reading anything, but I usually stick to historical fiction, literary mysteries, British classics, and history books about disasters, seafaring, early Hollywood, the 1920's, or the Puritans, and every once in a while a good essay. My perfect book would consist of a strong female heroine who is also a 1930's film star that becomes obsessed with a cold case mystery that involves an old shipwreck and, for some reason, Increase Mather. The clues are in her script. Someone write that please.
What memory do you have of your hometown or school library? When I was young, my mother and I would walk to the Berkshire Athenaeum in Pittsfield, Massachusetts for storytime every Thursday morning. I vividly remember the librarian reading Maurice Sendak's "Chicken Soup with Rice" on one of our visits and I always associate that book with the children's librarian there. My father also took me to the local history room at the library and we researched all sorts of things, from our family's past to what building used to be in a specific location. It was a natural place for me to get my first job--a shelver in the Children's Room.
Do you have pets?One cat named Gatsby.
What are your hobbies?I bake, sew, run, visit historical homes, go for walks, and try to garden.
Where was your favorite place to read when you were a child?Bed.