Posted by Anne M on Wednesday, Feb 2, 2022
We are saddened to hear of the passing of Carol Spaziani, retired librarian and friend of the Iowa City Public Library. With a career spanning twenty-six years, Spaziani's contributions to this library are immeasurable.
Hired in August of 1968, Carol Spaziani served many roles: a librarian, information specialist, and manager, coordinating volunteer, community, and audiovisual services. Carol believed that library services do not end at the door. She introduced jail services and deposit collections at local organizations, some of the foundational programs of our outreach services. She helped develop the modern information services department, supporting local businesses by creating a Business Services Center that offered tax forms, directories, and local documents. Carol was also instrumental in creating our Art-to-Go collection as well as our volunteer program.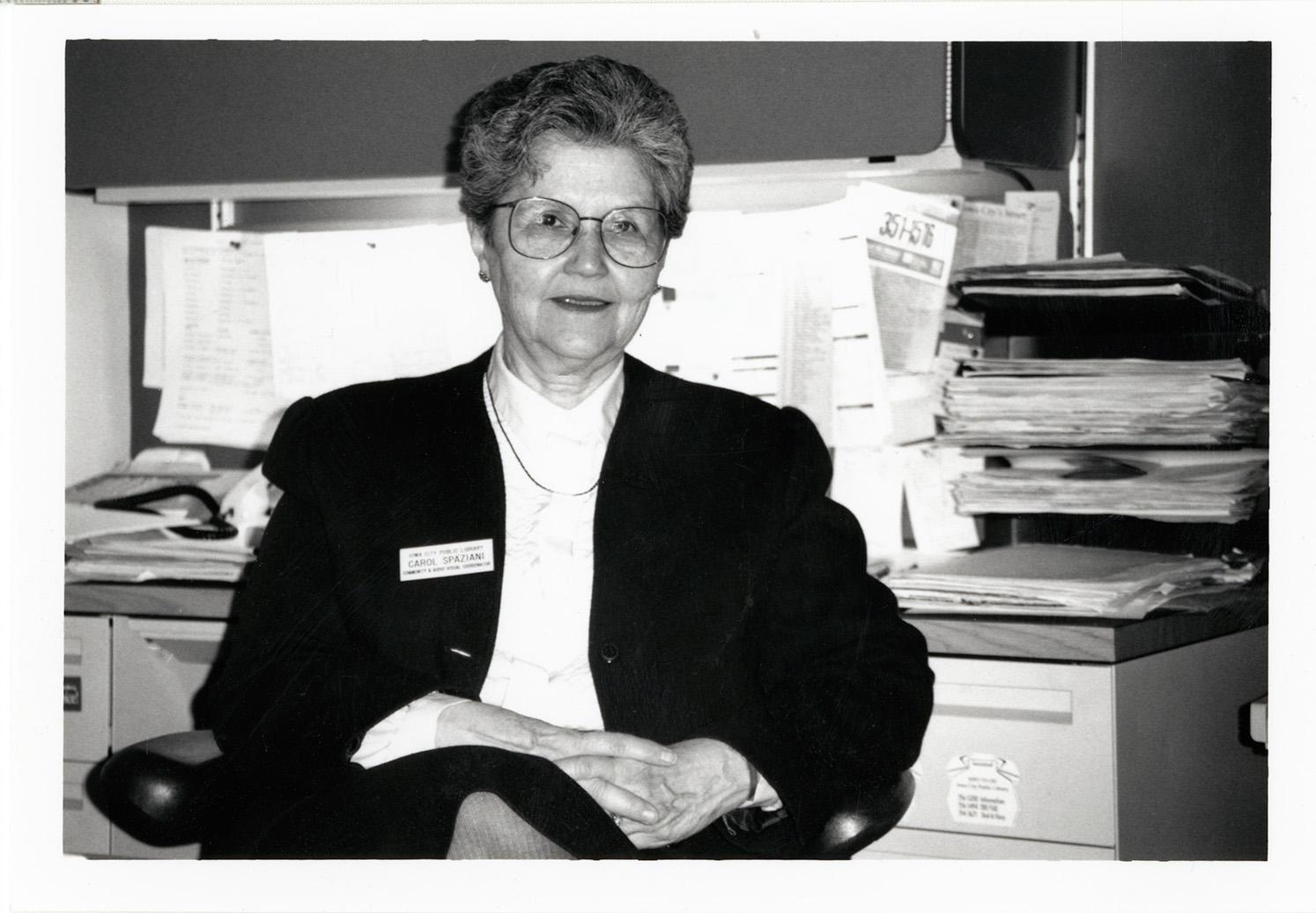 Spaziani was an advocate for intellectual freedom and First Amendment rights. She coordinated the library's Banned Books Week display each year and served as the President of the Hawkeye Civil Liberties Union. She also was a "policy wonk." In her A Century of Stories: the History of the Iowa City Public Library 1896-1997, Lolly Eggers, former library director and colleague, states that Spaziani "served as the library's watchdog, trying to ensure that library policies and practices were inclusive, not exclusive." ICPL holds an annual Intellectual Freedom Festival in September in honor of Spaziani's work to support one of the Library's main values.
Like library services, Carol's impact doesn't stop at ICPL's door. She was the president of the Lucas PTA as well as chair of the Johnson County Regional Planning Commission. She was active in the League of Women Voters, Community Mental Health Center, the Pilot Club, and the Iowa City/Johnson County Arts Council. She was passionate about judicial fairness, educational reform, fair housing, equitable wages, and downtown urban renewal. Carol was awarded the Linda Severson award from the Iowa City Human Rights Commission in 1995.
Spaziani retired from the Iowa City Public Library in 1995. After retiring, Carol returned to participate in one of the programs she founded, as a volunteer for The Book End. She worked there for many years and was recognized as the 2009 ICPL Volunteer of the Year.
Her work was essential to our Library and served as a foundation to many of our current services. In a fantastic One of a Kind interview, Ellen Buchanan states this about Carol: "In serving the public, dedication, commitment, vision, tenaciousness, inclusiveness, and compassion have been her hallmarks."
Categories