Posted by Anne W on Friday, Mar 2, 2018
Kids, here's your chance to make your voice heard at the ballot box: vote for the Children's Choice Award in the ICPL Children's Department throughout the month of March!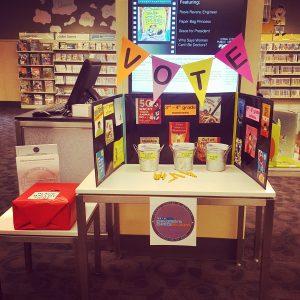 The Children's Choice Award is the only national book award given only by children and teens. There are five books nominated (also chosen by kids in school libraries around the country) in each of three age group categories: kindergarten to second grade, third to fourth grade, and fifth to sixth grade.
Visit our voting booth and fill out the secret ballot for your age group category. The winners will be announced when voting ends everywhere on May 6!
For a full list of this year's nominees, click here.
Kids can also vote online (instantly and without entering any personal information) by visiting http://everychildareader.net/vote/.
Categories