Posted by Angie on Friday, Nov 3, 2017
Last week Publisher's Weekly announced their best books of 2017 list. While looking over the children's list I came across a couple titles that I had somehow missed, so I have set out to read them before the end of the year.
The first one I grabbed was Real Friends by Newbery Honor author Shannon Hale, with artwork by LeUyen Pham. This graphic novel is a semi autobiographical account of Shannon growing up from Kindergarten to fifth grade and finding her real friends.
If I told you this book did not bring up memories of my own childhood and finding friends or that I am now going through this with my own 10 year old daughter, I would be lying. I can vividly remember my mother soothing my tears and giving me her best advice on how to deal with the cruel words or actions of the girls. I now have her advice and this book to talk to my daughter with when situations, like being a part of the club arise's.  Like Shannon in the book, there were days when I was part of the club and other days when I suddenly found myself on the outs.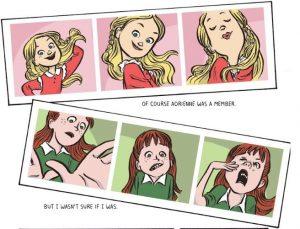 That said, I still really enjoyed this book and Shannon's story. LeUyen did a wonderful job with her artwork to bring out the emotions from Hale's characters with facial expressions. You will truly feel Shannon's insecurities, her happiness, her sadness, and her confusion. More importantly, though, you will feel. You'll be feeling the entire time, but you'll root for Shannon, and a lot of that comes from Phan's artwork.
This story was perfect for my 10-year-old and really for any child. Real Friends looks at the complex relationships among elementary school girls and by reading it together we were able to discuss important feelings and our reactions. The book echoes to readers that good friends don't treat you badly and that in the end, all the hard work and the journey that comes with it are worth it.
Categories
Recent News