Angie
Angie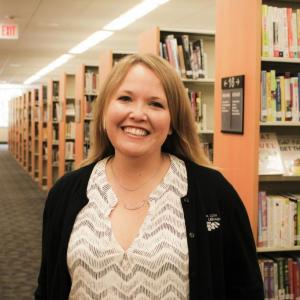 Interests:
Kids, Fiction, Early Readers, Picture Books, Board Books, Early Chapter Books, Graphic Novels, Young Adult, Historical Fiction, Chick Lit, True Crime, Cookbooks
About Me
I am the Children's Serivces Coordinator at the Library. You will find me doing Storytimes, programs, working at the Children's Room Desk, or making a rare appearance on the Bookmobile! 
What do you like to read?
I focus mainly on reading all levels of children's literature, but a couple times a year I try to read grown-up books in the historical fiction or cheesy romance genres.
What are your hobbies? In no particular order:
Reading, traveling, baking, watching BBC TV series, PBS Masterpiece Theater, police procedurals, musicals, drinking wine, going to movies, being with my family.
Share a surprising fact about you.
I cannot whistle.
Where was your favorite place to read when you were a child?
Everywhere! I was the kid with my nose always stuck in a book. My dad even planted a willow tree by our pond, so I could read under its branches. I was a hopeless romantic, even as a child.
If you could go anywhere in the world, where would you go?
To a secluded island with all the amenities. Or Greece.