Posted by Mari on Wednesday, May 30, 2018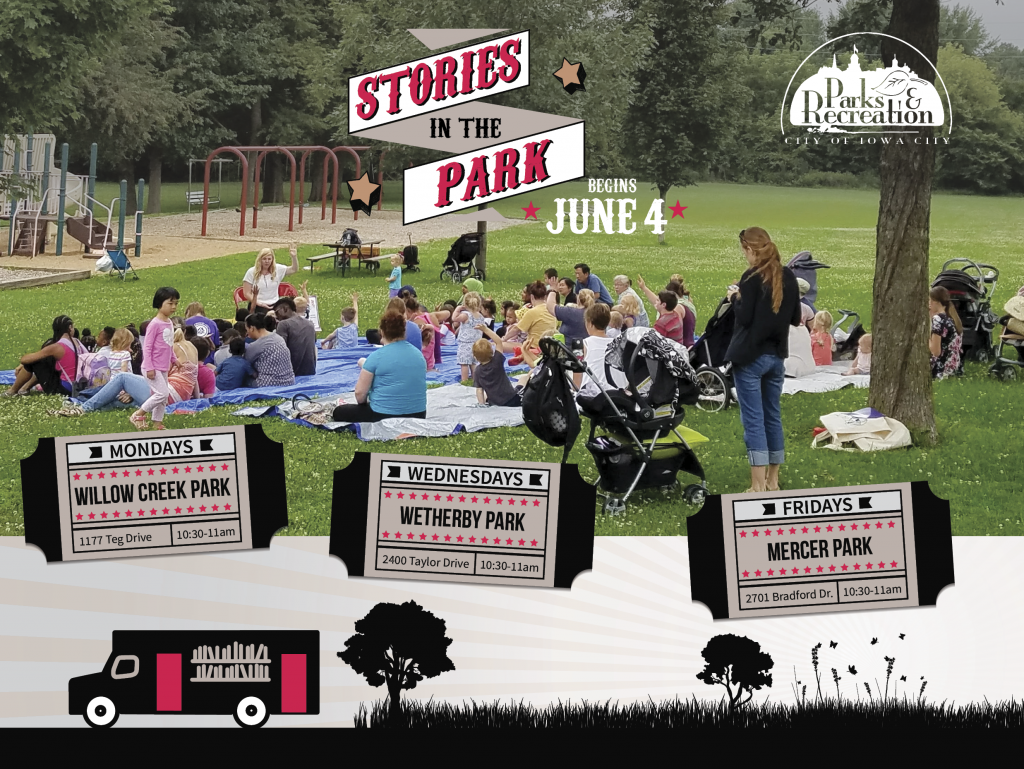 You don't have to choose between a morning trip to the library for storytime or a playground visit before the sun gets too hot this summer, check out Stories in the Park all summer long! The Iowa City Public Library's summertime outdoor reading series, Stories in the Park, will be held from 10:30 to 11 a.m. June 4 through August 3 at the following locations:
Monday at Willow Creek Park, 1177 Teg Dr.
Wednesday at Wetherby Park, 2400 Taylor Dr.
Friday at Mercer Park, 2701 Bradford Dr.
Stories in the Park is a mix of traditional storytimes and special performances, most similar to Preschool Storytime at the downtown library,  but appropriate for all ages. On traditional storytime days, you can expect stories, songs, and rhymes. Special performances will be mostly musical in nature in celebration of our Summer Reading theme Libraries Rock!
Children, parents and caregivers should remember to bring their Library Card in order to check out books and DVDs from the Bookmobile. If you need to sign up for a card you can do that on the Bookmobile as well.  You can sign up for the Summer Reading Program and redeem prizes for Babies & Toddlers, Kids, Teens and Adults on the bookmobile at all of scheduled stops. See the bookmobile summer schedule to plan your visits. the Bookmobile will also be at all of the Thursday Party in the Park events this summer for your library needs, see the Party in the Park schedule to find out when we'll be in your neighborhood!
In the event of rain, the Monday and Wednesday storytimes will be held at the Library and the Friday storytimes will be cancelled. However, the Bookmobile will still travel to the parks, rain or shine, so visitors can check out items. There won't be Stories in the Park or Bookmobile service on Wednesday, July 4.
Be sure to plan on attending a few of the special Stories in the Park programs, this summer, here's what we have scheduled:
Music by the Family Folk Machine: Friday June 8 at Mercer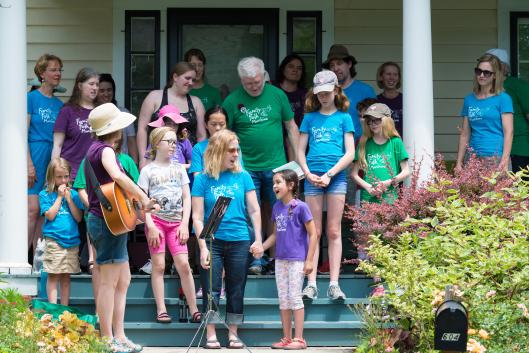 The Family Folk Machine is an intergenerational, non-auditioned choir supported by the Iowa City/Johnson County Senior Center that welcomes kids and adults of all ages and backgrounds to sing together with a folk band.
Music by Becca Sutclive: All Week-June 11, 13, 15 at Willow Creek, Wetherby, and Mercer
Becca Sutclive is a local musician and Storytime frequenter! Join us this week for singing and dancing as Becca shares her home grown folk talent!
Sing & Play & Learn with West Music!: Monday June 18 at Willow Creek, Friday July 6 at Mercer, & Wednesday July 18 at Wetherby
Becky with West Music brings music education to Willow Creek Park! This musical program teaches fundamentals of rhythm, basic motor function, mental dexterity, healthy emotional expression, sociability, and much, much more. This program is geared for toddler through kindergarten, so come ready to sing, and play learn today!
Dance Me a Story with Ballet QC: Friday June 22 at Mercer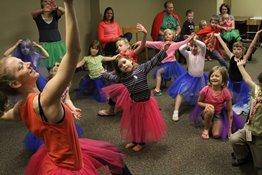 A fun interactive dance program for people of all ages that encourages reading through the vehicle of dance. Imaginations will come to life as we read Shel Silverstein. Turn on the music, grab a costume, do the hokey-pokey, waltz, jitterbug and much more!
Yoga with Karen: Monday June 25 at Willow Creek
Today our stories and actions will focus on the relaxing practice of Yoga! Children's Librarian/ Yoga Instructor from Zen Den Karen will be here to teach us some mindful breathing, poses, and fun stories about yoga out in the open air! Is there a more relaxing way to start your week?
Drum Safari: Monday July 9 at Willow Creek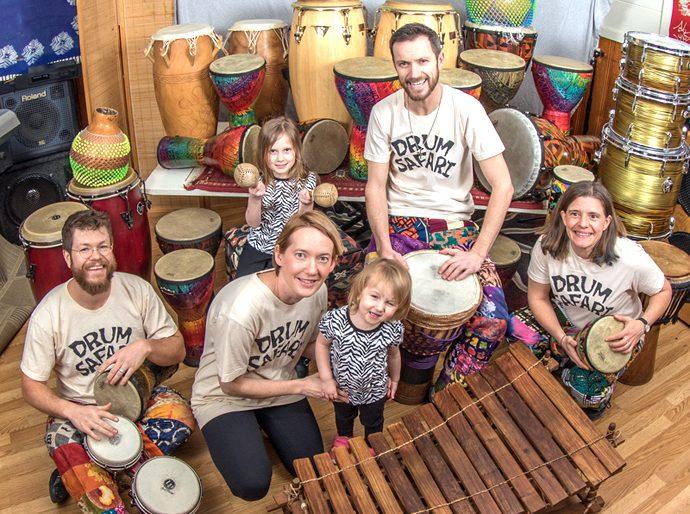 Energetic World music to get your feet moving and body grooving! This dynamic live band provides musical entertainment through interactive songs from around the world including from the Caribbean Islands, Cuba and Brazil!
Music by the Skipperlings:  Monday July 23 at Willow Creek
The Skipperlings are three girls singing old songs in three-part harmony with guitar accompaniment. They are a youthful trio and a spin-off from the Family Folk Machine.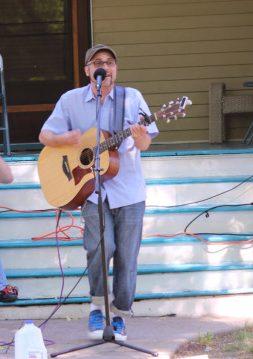 Musical Storytime with Marc Falk: Wednesday July 25 at Wetherby & Friday July 27 at Mercer
Join us for a Musical Storytime with Marc Falk! Marc Falk, a music professor at Coe College and founder of Iowa City's Outdoor Adventure Camps, will present a concert of fun and interactive music for kids and parents.
Accordion Jam with Megan Valencia: Friday August 3 at Mercer
Come ready to dance and shake along with Megan as she serenades us with her accordion. It's never too early to boogie! Held in Mercer Park, near the playground equipment.
Categories