Posted by Beth on Thursday, Aug 27, 2015
You told us what you read as part of the 2015 Summer Reading Program, and we kept track.
Click on the title to place a copy on hold.
The most popular book in this year's Adult Summer Reading Program is also one of the most popular books of the year:  The Girl on the Train  by Paula Hawkins.   Three unreliable narrators set the tone for this Hitchcockian thriller. You'll be drawn into the story not knowing who to believe or trust, just like the characters themselves. Rachel takes the train into London every day, watching the same scenery pass day after day, the same houses, the same strangers.  But are they really strangers? Is Rachel really just watching the story unfold?  Or is she hiding from something. Full of twists, turns and lies, The Girl on The Train will keep you on the edge of your seat until the very end.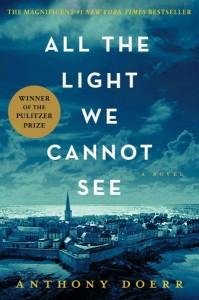 Winner of the 2015 Pulitzer Prize, All the Light We Cannot See, by Anthony Doerr begins with the stories of a young blind French girl, Marie-Laure and a gadget-obsessed German boy, Werner, and how their lives evolve as World War 11 takes hold in Europe.  When their lives collide during the occupation of France, their stories intertwine for a time, and we see how the War led them down separate but converging paths.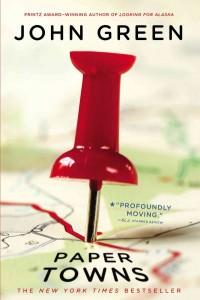 Paper Towns, written by John Green (author of The Fault In Our Stars). This young adult novel was one of the top Teen Reads for this summer too.   Quentin "Q" grew up next door to  Margo Roth Spiegelman, but the older they got the more distant their lives became.  Shortly before high school graduation, Margo talks Quentin into being her partner-in-crime for one night of practical jokes and hijinks.  Three days later Margo disappears.   Quentin and two of his friends hit the road in search of Margo, following the clues she has left for them to find.  This road trip mystery rescue adventure became a motion picture starring Nat Wolff and Cara Delevingne.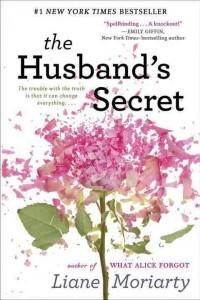 The Husband's Secret by Liane Moriarty.   "For my wife, Cecilia Fitzpatrick.  To be opened only in the event of my death."  says the 15 year old letter Cecilia found mixed in with her old tax documents.  She opens and reads it, expecting a sentimental message from her husband as it is dated just after the birth of their first child.  Little did she expect its contents to blow her world - and the worlds of two others - apart at the seams.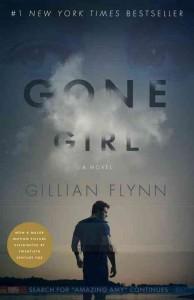 Gone Girl, by Gillian Flynn.  This psychological thriller is the story of the marriage of Nick and Amy Dune. Both newly unemployed writers, Nick and Amy leave New York City and return to Nick's home town in Missouri to care for Nick's dying mother.  On their 5th anniversary, Amy disappears and soon people begin to suspect Nick in her disappearance.   The deeper into the story the reader gets the more we come to realize that both Amy and Nick aren't who or what they appear to be.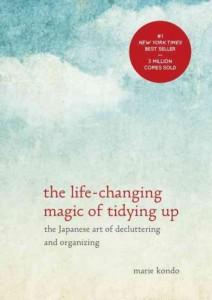 The Life-Changing Magic of Tidying Up. Japanese cleaning and organizing consultant Marie Kondo takes tidying to a whole new level, promising that if you properly simplify and organize your home once, you'll never have to do it again.  Following her simple idea of only keeping things that bring you joy.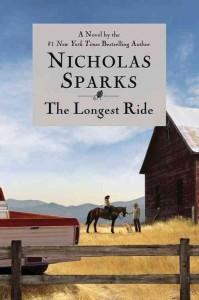 The Longest Ride, by Nicholas Sparks.   Two love stories - one a new love, and one that lasted more than 5 decades - intertwine in unexpected ways. 90 year old Ira Levinson is stranded in his car after an accident. His late wife Ruth appears to him and helps him stay conscious by recounting the stories of their 50 years together as Ira waits to be rescued.  Luke and Sophia meet at a rodeo, and the connection is instant. After four months together they realize their lives might be heading in opposite directions.  Returning from a long weekend together,  Luke and Sophia discover Ira and the accident, and stay with him until the ambulance arrives.  Talking to Ira about his 50 year romance with Ruth, Luke and Sophia look at their lives differently.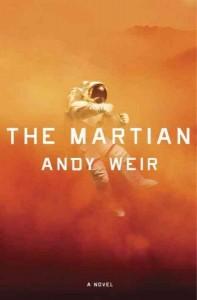 The Martian, by Andy Weir.   Six days ago, astronaut Mark Watney became one of the first people to walk on Mars.  Now everyone thinks he was the first person to have died there.  But he's not dead.  After a dust storm nearly kills him and forces his crew to evacuate while thinking him dead, Mark finds himself stranded and completely alone with no way to even signal Earth that he's alive—and even if he could get word out, his supplies would be gone long before a rescue could arrive.
Published in 1997, Harry Potter and the Sorcerer's Stone, by J.K. Rowling is the first in the series of 7 children's/young adult novels chronicling the adventures of a young wizard Harry Potter and his best friends Ron Weasley and Hermione Granger at Hogwarts School of Witchcraft and Wizardry.  H.P & The Sorcerer's Stone covers 11- year old Harry's discovery of his wizardly gifts and his first year at Hogwarts.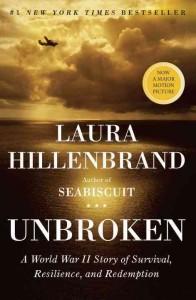 Unbroken: a World War II Story of Survival, Resilience, and Redemption, by Laura Hillenbrand, is a biography of WWII hero Louis Zamperini, a former American Olympic track star who spent 47 days drifting at sea after a plane crash in the South Pacific, and then survived more than 2 years as a Japanese prisoner of war.
Categories
Recent News