Posted by Stacey on Friday, Jan 19, 2018
And, just like a snowmobile, the Bookmobile operates all winter!
When the freezing rain started falling last week, we were already at our Mercer Park stop.  The ground was slick and I warily drove it into the empty parking lot to test how our 22,000 pound vehicle would handle on ice.  We were elated to find that it handled surprisingly well!  We made it to the 1st Avenue Hy-Vee stop and back to our downtown parking spot without any trouble.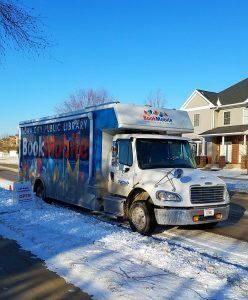 But snow or a different type of ice on the roads might be a different story, so please don't be surprised if you see the Bookmobile driving slower than usual!  We're putting safety first until we all figure out how to handle such a large vehicle in adverse conditions.
What else have we done to be ready for winter Bookmobiling?  We carry a shovel and a bucket of ice melt, to make sure you can comfortably walk up to the vehicle's door.  As you enter and exit the Bookmobile, take a little extra care in case of slush on the stairs.  You'll be nice and toasty on board, as we have a very powerful heater.  And, finally, we bought a long ice scraper that hasn't been used yet – cross your fingers that it stays that way for a while!
Categories
Recent News