Posted by Shawna on Tuesday, Jan 9, 2018
The ICPL Bookmobile is officially back on the road! The Winter/Spring schedule runs from Jan 8 – May 24 with lots of new and continued stops for you to check out. To celebrate the New Year and new schedule, we will be giving away magnetic clips, as supplies last, when you stop on the Bookmobile. I am using a clip at my house as a way to display the new schedule on my refrigerator.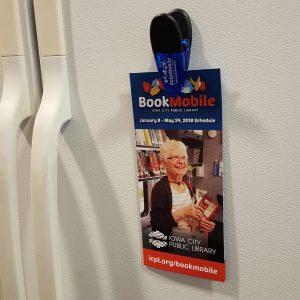 If you don't have an up to date Library card, or maybe you've never had one, we would love to make you a Library card while on the Bookmobile and tell you all about the ways you can use your library. The free stuff on the Bookmobile doesn't end with your new fridge clip – Browse our selection of books and movies for all ages or consider placing a hold from the Downtown collection to be picked up on the Bookmobile. Also keep in mind that all children's materials checked out on the Bookmobile don't have fines.
Check our schedule on our webpage to see where and when you can find the Bookmobile or call the library for information, 319-356-5200. See you soon!
Categories