Posted by Beth on Wednesday, Oct 28, 2015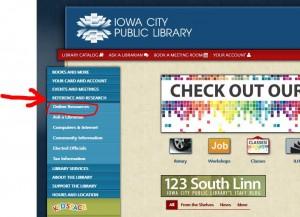 At the Information Desk we are often asked to help people find the value of a used car - either one they own and are thinking of selling/trading-in or a used car they're thinking about buying.
Two of the most commonly used sources of used car information are the Kelley Blue Book and the NADA Guides, both of which are available on the ICPL website at www.icpl.org.  Choose Reference and Research from the far left column, then Online Databases. On the Online Database page choose the category Business & Consumer Information, and scroll down the list.   Or click HERE and scroll down.
The NADA Guidebook and Kelley Blue Books are very similar - based on research, they provide suggested values for vehicles. Both have been around since before 1940.  And while they are similar, their intended audience is actually quite different.  Kelley Blue Books are geared toward consumers.  Their values are determined by considering mileage, condition, features and local demand.   The NADA Guide books are designed primarily for the members of the National Automotive Dealers Association.  Their prices are determined based on automotive sales, and show what dealers expect to sell a vehicle for.   Because these two purposes are different, the values they give for the same vehicle will almost always be different.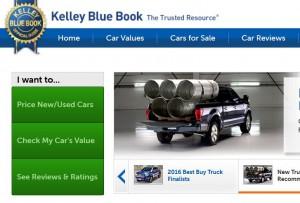 The Kelly Blue Book website can be used to find the price of a new or used car,  check the value of your own car,  or see reviews and ratings.   The information you provide when finding your car's value includes the year, make, model, mileage, trim package, and options that were available when your car was made (engine size and type, transmission, entertainment, comfort and convenience options) and color. You also have to provide your zip code, as they use regional demand as a factor as well.  You are then given an option to find the Trade In or Sell To Private Party value.  But you're not done yet - you still have to add in the condition of your car. You're given four choices: Excellent, Very Good, Good, and Fair, with a description of what each of those categories represents.  Then you are given a page of information with a value for your car and graphic you can adjust to see how the price would vary  if your car's physical condition were better or worse.  Unfortunately you also see adds for brand new cars you might like on this page, but advertising pays the bills.
Kelly Blue Book also provides value information for Motorcycles, Personal Watercraft and Snowmobies.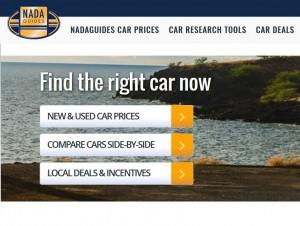 The NADA Guides website can be used to find values for new or used cars and trucks, motorcycles, RVS, boats, Classic Cars and Manufactured Homes.  According to their website their data is based on "over one million sales transactions per month" and the prices given in their guides are based on "the overall condition, mileage, history and local supply and demand."
You fill in the same basic details here - year, make, model, mileage.  The results you see will have suggested Trade In values for cars in Rough, Average and Clean condition as well as an expected Retail Price.  Values for selling or buying a vehicle privately are not provided.
Print copies of the NADA Guides are also available at the Information Desk for use in the Library.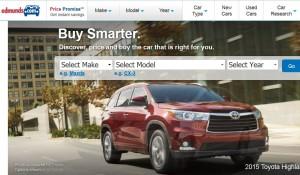 Another popular source for automotive values is Edmunds.com  The Edmunds.com web site has a wide variety of automotive information, but no motorcycles, snowmobiles, RVs etc.  You can find prices for new and used cars, information on national and regional incentives or rebates, dealer and inventory listings, vehicle reviews.   They have a section called Appraise Your Car which functions like Kelley and NADA websites.   Edmunds also devotes a large part of its website to reviews, research, tips and advice and a very handy section called Maintenance - which is where you can find Maintenance Schedules, Recalls and Technical Service Bulletins just by entering your cars year, make and model.   Very handy source for some times hard-to-find information.
All three of these websites- either separately or together- can help you determine a fair value for your own car or get information on a vehicle you are considering buying.
Recent News