Posted by Shawna on Tuesday, Jan 10, 2023
The ICPL Bookmobile is once again on the road with a full Bookmobile route. Staff are ready for a season of Bookmobile fun running from Tuesday, January 3 through Friday, May 26 2023.

The Winter/Spring schedule operates Monday through Friday to support neighborhoods and locations all throughout Iowa City as well as contracting communities. The Bookmobile offers the ability to pick up holds, browse and borrow, return materials, register for library cards, and participate in the Winter Reading Program. 

ICPL Bookmobile staff look forward to seeing visitors, connecting people with library materials, and awarding winter reading prizes. Staff always appreciate the opportunity to hear what community members are reading, share information about library services, or simply say hello! 
The 2023 Winter/Spring schedule can be downloaded, or viewed online. 
| | | | |
| --- | --- | --- | --- |
| Monday |   |   |   |
| 9 - 9:30 a.m. |   | Dodge Street Coffeehouse | 2790 N Dodge St |
| 9:45 - 10:15 a.m. |   | Oaknoll East | 2640 N Scott Blvd |
| 10:30 - 11 a.m. |   | Two Rivers Bank & Trust | 551 Westbury Dr |
| 11:15 a.m. - Noon |   | North Dodge Hy-Vee | 1125 N Dodge St |
| 1:30 - 2 p.m. |   | Faith Academy | 1030 Cross Park Ave |
| 2:15 - 2:45 p.m. |   | Fareway Grocery, Commerce Drive | 2765 Commerce Dr |
| 3 - 3:30 p.m. |   | Legacy Independent Living | 1095 Silvercrest Circle |
| 3:45 - 4:30 p.m. |   | Lemme Elementary | 3100 E Washington St |
|   |   |   |   |
| Tuesday |   |   |   |
| 9 - 9:30 a.m. |   | Sidekick Coffee & Books | 1310 1/2 Melrose Ave |
| 9:45 - 10:15 a.m. |   | Ronald McDonald House | 730 Hawkins Dr |
| 10:30 - 11:30 a.m. |   | Oaknoll Retirement Community | 735 George Street |
| 11:45 a.m. - 12:30 p.m. |   | UI College of Medicine Courtyard | 195 Newton Rd |
| 1:30 - 2:15 p.m. |   | Fin & Feather | 125 Hwy 1 W |
| 2:45 - 3:15 p.m. |   | Atrium Village | 117 3rd St |
| 3:30 - 4:15 p.m. |   | Hills Elementary | 301 Main St |
|   |   |   |   |
| Wednesday |   |   |   |
| 1:30 - 2 p.m. |   | Walmart | 919 Hwy 1 W |
| 2:30 - 3 p.m. |   | Melrose Meadows | 350 Dublin Dr |
| 3:15 - 3:45 p.m. |   | Weber Elementary | 3850 Rohret Rd |
| 4:10 - 4:30 p.m. |   | Lincoln Elementary | 300 Teeters Ct |
|   |   |   |   |
| Thursday |   |   |   |
| 9 - 9:30 a.m. |   | Prelude Behavioral Services | 430 Southgate Ave |
| 9:45 - 10:15 a.m. |   | Mercer Park | 2701 Bradford Dr |
| 10:30 - 11 a.m. |   | St Mark's United Methodist Church | 2675 E Washington St |
| 11:15 a.m. - Noon |   | First Avenue Hy-Vee | 812 S 1st Ave |
| 2:15 - 3 p.m. |   | Twain Elementary | 1355 Deforest Ave |
| 3:15 - 3:45 p.m. |   | Grant Wood Elementary | 1930 Lakeside Dr |
| 4 - 4:30 p.m. |   | Lake Ridge Estates | 893 Spring Ridge Dr |
| 5 - 5:30 p.m. |   | Fareway/GreenState Credit Union | 825 Mormon Trek Blvd |
|   |   |   |   |
| Friday |   |   |   |
| 2 - 2:45 p.m. |   | Waterfront Hy-Vee | 1720 Waterfront Dr |
| 3:15 - 3:45 p.m. |   | Hoover Elementary | 1355 Barrington Rd |
| 4 - 4:30 p.m. |   | Breckenridge Estates | 4494 Taft Ave SE |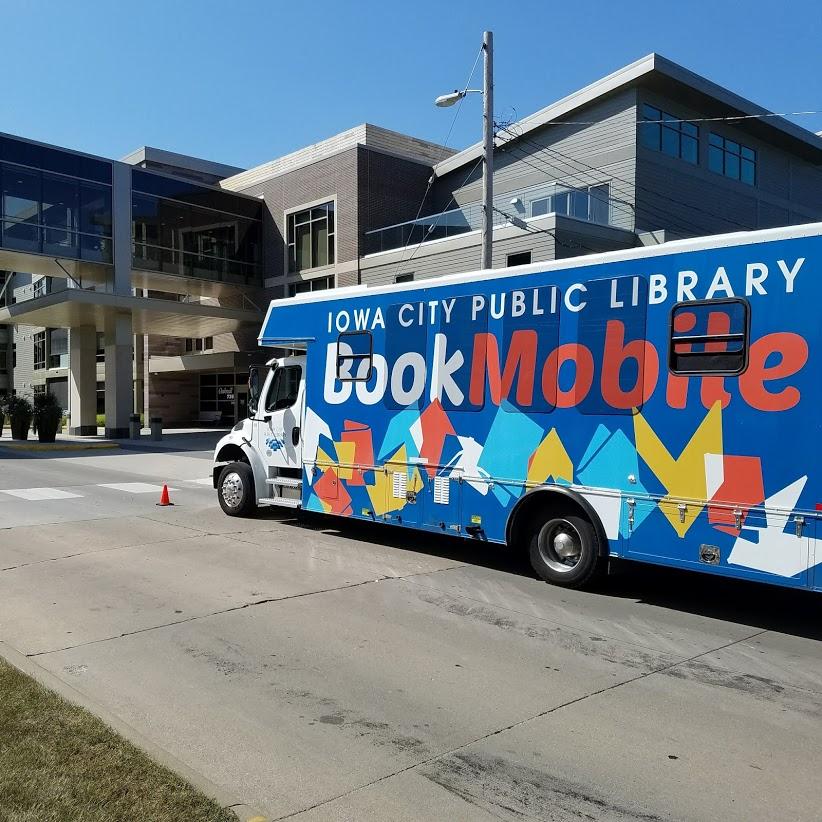 Categories
Recent News