Posted by Mari on Saturday, Oct 14, 2017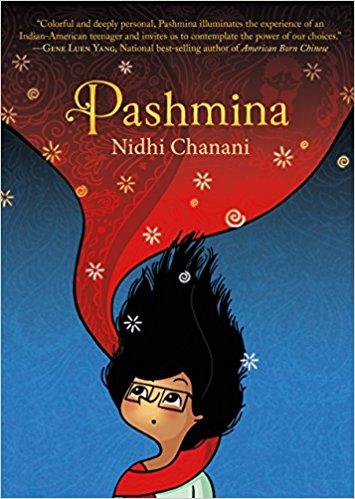 All of the Children's librarians were abuzz this week after voraciously reading Pashmina, the first graphic novel from artist Nidhi Chanani. Born in Kolkata, Chanani brings her Indian heritage and her talent and love of art together in this story about Priyanka, a young girl who knows very little about India. As a second generation Indian American, Priyanka is torn between two worlds. She tries not to stand out too much at school by shortening her name to Pri, and she doesn't understand all of the Hindu traditions her family practices at home.
India is her mother's homeland which she fled at a young age and where she has vowed to never return. Pri can only imagine what it would be like to live in India until she discovers a forgotten pashmina in her mother's belongings that transports her to beautiful and fantastical Indian landscapes too good to be true. She doesn't realize the truth about why her mother left until a cash prize from an art contest allows her to travel to India to stay with her aunt. Pashmina explores bicultural and immigrant culture clashes as well as a feminist look at ways women are constrained by patriarchy. Chanani's beautifully drawn images uses color to draw a clear contrast between Pri's real life which is shown in pale neutrals and her wondrous visions of India, bright and vivid like the cover art.