Posted by Beth on Tuesday, Nov 28, 2017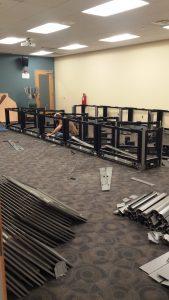 Starting this week ICPL's second floor Computer Lab will be closed for renovation. The Lab was originally designed as a computer classroom, and it served us well. Over time technology and community needs change, so we are reconfiguring the space to allow for more flexibility and innovation.
The new space will support training and programs and provide access to technology to assist in digital media creation. The footprint of the room will grow, as walls are being moved. The furniture will be movable, and a new large screen monitor will add additional options for display. Some activities (Minecraft, tax assistance) will continue to use the entire space, but at other times the room can be used for multiple activities at once. The new space will be open in late February.
While the room is under construction, we've had to relocate all of the regularly scheduled classes and events that happen in that room. The majority of events, like our Drop-in Tech Help sessions (Monday-Thursday) the Community Writing Center (Tuesdays) will be moved down the hall to Meeting Room E, while other events (VITA Tax Help) have relocated to other places in the building. The Library's Calendar will list the updated locations, and Staff at the Help or Information Desks can help you find the right rooms.
We look forward to our new Computer Lab and hope you do to.
Recent News