Posted by Mari on Thursday, Jan 19, 2017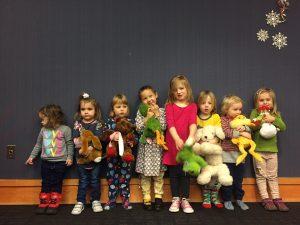 A lot of libraries lately have been hosting stuffed animal sleepovers for kids who bring their stuffed animals to Storytime. The kids leave their stuffed animals overnight, and the next day they get to see pictures of what their fluffy friends did during their sleepover party at the library.
This week, ICPL had their first Stuffed Animal Sleepover. We didn't have a lot of animals "stay the night," but the Storytime was really fun, and we had a great time taking pictures of the cuddly antics. We will absolutely host another sleepover this summer, because summer is the best time for sleepovers, especially at the library. 
After my usual opening song, Clap Your Hands from The Old Town School of Folk, we started out with an action rhyme, Teddy Bear, Teddy Bear, Turn Around, then we threw our stuffed animals up in the air to the song "Teddy Bear Playtime" by Hap Palmer, and read Where's My Teddy? by Jez Alborough.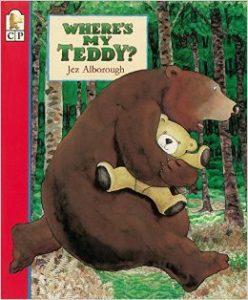 Next we really got moving with a stuffed animal parade around the Storytime Room and Children's space set to Bananas in Pajamas, a silly song that's great for marching AND slumber parties.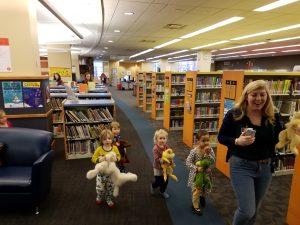 After our little parade, we read Monkey and Me by one of my favorite author/illustrators, Emily Gravett. In the story, the little girl runs into lots of different animals with her stuffed monkey bestie. The preschoolers acted like the animals they encounter in the story.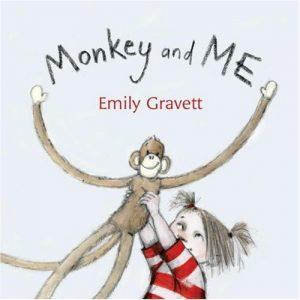 We supplemented monkey time with a flannel story and song "Five Little Monkeys Jumping on the Bed." This is a great counting song, and there's a lot of movement the kids can do as well.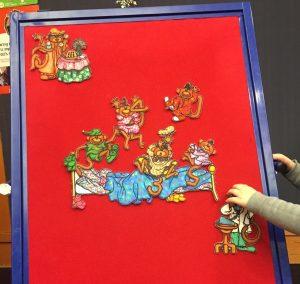 I usually read one eBook during my storytime to highlight how fun it can be to check out picture books from Overdrive, and the kids are usually engaged for longer stories when the pictures are large on the screen. This week I checked out and read Found by Salina Yoon with the Kindle for PC app.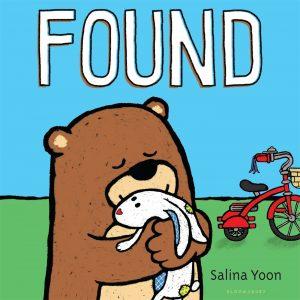 Our last activity was the parachute, where we threw in our stuffed animals and tried to make them fly. We shook the parachute fast and slow along to the song Popcorn's Calling Me by the Laurie Berkner Band. The kids loved trying to get their stuffed animals to touch the ceiling.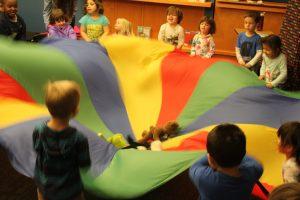 I always finish my Storytimes with "Clap Your Hands" by Lisa Yves and the Young Beboppers.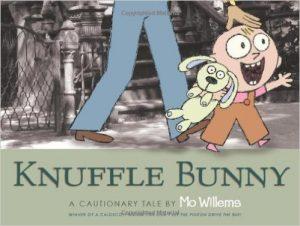 Our Storytime movie was Knuffle Bunny: A Cautionary Tale by Mo Willems, a very sweet story about his own daughter, Trixie, and her stuffed bunny, Knuffle Bunny. Mo Willems always narrates his books when they are adapted for the screen, and this one also features the voice of his daughter.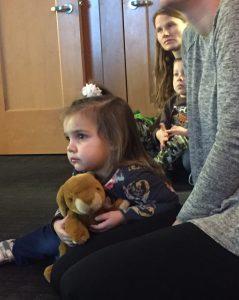 The preschoolers loved cuddling with their animals during the movie.
The kids had a great time, and Meredith, Casey and I had a blast setting up pictures for the "slumber party." Here are some of our favorites.