Amanda
Amanda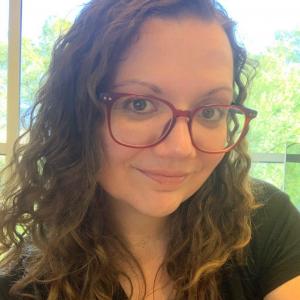 Interests:
Historical Fiction, Literary Fiction, Romance, Biographies, Dystopian, History, Memoir, Music, Religion, Self Help
About Me
Switchboard Manager
What do you like to read? I enjoy reading a wide range of genres, including WWII historical fiction, anything American Southern history, celebrity memoirs, writing helps and guides, and contemporary romances.
What are your hobbies? I like to act in community theater when I have the time, see live music, knit hats, and hike.
What movies do you like to watch? I'm a big fan of classic Hollywood, and if it has Patrick Swayze in it or Christopher Guest made it I already love it.
Where was your favorite place to read when you were a child? Under a blanket with a flashlight when I should have been asleep. I thought my mom didn't know but she absolutely did.
What memory do you have of your hometown or school library? My middle school librarian knew me very well and was always recommending new books for me. I was reading at a much higher grade level, and pretty much anything she offered to me I read no matter the topic or how long it was. I was an unafraid voracious reader!