Posted by Mari on Thursday, May 4, 2017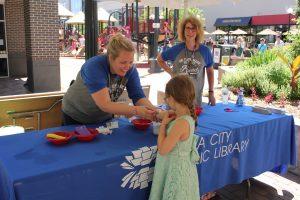 On Saturday June 3rd, 10 am-3 pm, we are celebrating Art, Books and Children, or the ABC's, during the Iowa Arts Festival!  Mark your calendars now for this annual event, formerly known as Children's Day, produced by the Iowa City Public Library with Summer of the Arts. This is a great time to sign up for the ICPL's summer reading program—Build a Better World. Learn about art, music, science and more with activity booths from local groups and enjoy a show on the Family Stage. With live performances, arts and crafts, fun activities, and Planting Day for ICPL's Children's Garden, there's something for everyone!
The fun doesn't end on Saturday! On Sunday, check out the Children's Global Village, featuring activity booths representing different countries and cultures. Find out more about ABC's: Art, Books and Children on Saturday and Children's Global village on Sunday from Summer of the Arts!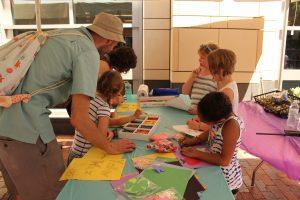 Family Stage Schedule:
Sponsored by Dr. Suzanne Stock Orthodontics
10:00-10:45 AM    After School Specials rock concert (by Shimek Before & After School Program kids)
10:45-11:15 AM    Ambition Baton Twirling
11:30 AM-12:15 PM   Hanson Family Jugglers and Unicyclists
12:15-12:45 PM    UI Spirit Squad
1:00-1:45 PM   Dream Divas, Tumblers, and Set the Atmosphere show (from the Dream Center Performance Arts Academy), sponsored by Casey's General Store
2:00-3:00 pm   Girls Rock!, sponsored by Casey's General Store
Activity Booths:
Recycling Craft and Games with The 100 Grannies
Crazy Locks Hair Salon with ICPL
Summer Activities with the Girl Scouts of Eastern Iowa and Western Illinois
Crayon Crafts with the Iowa Children's Museum
Furry Friends with Iowa City Animal Care and Adoption Center
Fidget Making with the Iowa City Autism Community and the Awesome Autism Awareness and Acceptance Art Project
Iowa City Public Library Summer Reading Program Sign-up
Make Your Mark with the City of Literature
Monster Prints with Big Picture Young Artist Studio
Paint the Town with ICPL and Blick Art Materials
Picking up STEAM (Science, Technology, Engineering, Art, Math) with the Iowa City Parks and Recreation Department
Making Music Together with the Preucil School of Music
Read, Learn, Grow! Children's Garden with Scott Koepke
Sing & Play & Learn Today with West Music