Posted by Melody on Tuesday, Apr 29, 2014
Back in March, I blogged about how to research information about  houses. As you may guess, it's hard to think of anything right now except for the new house. One month of owning it and one week of living there, our to-do list is still terribly long. Flooding basements, broken dryers--oh the joys!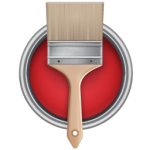 The real joys come with sprucing up the place--making it our own. The social media age gives us even more options for planning interior decorating, DIY repair solutions, and general new-home troubleshooting. What tools are best for planning different projects?
Launched in 2010, Pinterest is a "visual discovery tool" that grew at a breakneck pace, having more than 48 million users by early 2013 (Wikipedia). It's a super easy platform to gather ideas from professional designers as well as laypeople who share similar tastes. For planning our new living room and bedroom, Pinterest became useful to bookmark the different looks and pieces of furniture I found inspiring. You better believe I had a "Blue Bedroom" board and a "Pieces for the New Place" board.
But pictures can only go so far. DIY and design blogs are useful to get easy-to-publish information. It's a benefit and drawback. One the one hand, you get the perspective from the blogger, a "it worked for me!" sense. And for questions you want to find an immediate answer for, blogs can be a great resource. I found myself finding information on Apartment Therapy, Lifehacker, and Curbly.
Where both blogs and social media fell short, however, was giving me that well-polished presentation of ideas and projects that have been well-vetted. Social media and blogs can still disseminate false information. Books get fact-checked (that is, unless it's a cheapo publishing company that laid off its editors).
The Iowa City Public Library is a goldmine for home improvement books. Here is a shortlist of some categories and where you can find them on the second floor:
General home repair: 643.7
Landscaping: 712.6
Plumbing: 696.1
Decorating: 747
DIY crafts/homemade home: 745.5
And yes, we have entire books on decorating with the color blue.
As for the outcome of two months of planning and one week of living, behold! The new living room: