Posted by Melody on Thursday, Nov 1, 2018
Today I learned that early voters can track their absentee ballot through the Iowa Secretary of State's office. Here's a snapshot of the info you need to look up your ballot: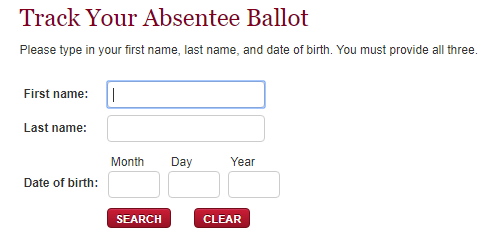 Absentee ballots are what's used when you vote early at a satellite location like the Iowa City Public Library. I am waiting until Election Day to vote so I can head to our neighborhood's polling place to high-five my fellow neighbors for voting.
The last chance to vote early at ICPL is this Saturday, November 3. If you can't make it to your polling place on Tuesday, November 6, head to the Johnson County Auditor's Office on Sunday (10am-5pm) or Monday (7:45am-5:30pm).
More About Absentee Ballots
If you received an absentee ballot in the mail that you haven't returned yet, consider turning it in to the Johnson County Auditor's office directly, or turn it in to a satellite voting location. Absentee ballots must be postmarked by November 5 and reach the auditor's office by November 13th in order to count.
There's no mailing these ballots or turning them in to your polling place on Election Day. And there's no voting at the Auditor's Office on Election Day either. Just at your polling place.
For handing in an absentee ballot, the Auditor's Office is open the following hours:
Thursday, November 1, until 7pm
Friday November 2, 7:45am - 5:30pm
Saturday, November 3, 8am - 5pm
Sunday, November 4, 10am - 5pm
Monday, November 5, 7:45am - 5:30pm
Election Day Tuesday, November 6, 7:45am - 9pm
Voting early is great. But you gotta do it right!