Posted by Melody on Friday, Oct 4, 2019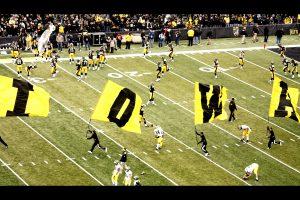 Twenty-one years ago this weekend, a Hawkeye sacked Tom Brady.1
October 3, 1998 was a sloppy Saturday at Kinnick Stadium. Twenty-one years later, the Iowa Hawkeyes again face off against the Michigan Wolverines, but this time at Michigan Stadium, with no rain predicted, and without Tom Brady on the field.
Back in 1998, Jim Ecker covered this game for the October 4th issue of The Gazette.2 He wrote, "The Hawks still led midway through the fourth quarter as the soggy afternoon turned to darkness. They stopped Michigan time after time after time, drawing roars from all those bodies huddled under yellow raincoats in the crowd."
But the Hawks didn't stop them enough. They lost that 1998 game 9 to 12.3
Iowa fans will be pleased to learn defensive tackle Jared DeVries sacked Brady in that 1998 game, and defensive back Tarig Holman caught two interceptions against him. Sports photographers Brian Ray and Pete Thomas captured those moments for The Daily Iowan, images you can see on page 7B of the October 5, 1998 issue of the newspaper, hosted by the Iowa Digital Library.
Brady played his college career at Michigan, from 1995 until 1999, after which he was drafted to the New England Patriots where he still plays quarterback today. Reportedly, Brady still wears the same shoulder pads he did back in 1995.
What else should we know about the 1998 Iowa Hawkeyes? That was the 20th and final season led by Coach Hayden Fry, and his losing-est season with a 3-8 record. When Fry retired, Kirk Ferentz would take over in 1999 with his own losing-est season ever. The Hawks lost to every other Big Ten team in 1999 (but crushed the Northern Illinois Huskies!).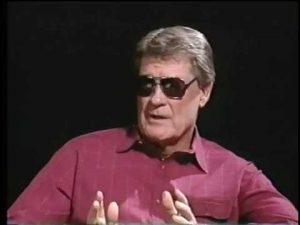 Hayden Fry fans will want to check out Ellen Buchanan's interview with the legend.
Turns out there are lots of ways we can look up historical information about Big Ten football and the Iowa Hawkeyes. Historical newspapers are awesome for reliving a game play-by-play. The Daily Iowan will always have great coverage of University of Iowa games for all sports, and thanks to its visionary publishers working with the UI Libraries, their archive is free and accessible to anyone.
Sports writing provides a thrilling read. Treat yourself by taking a historical trip down gridiron lane.
1. Tom Brady has recently entered the publishing field. Check out his new book, TB12: How to Achieve a Lifetime of Peak Performance.
2. You have two options to read old issues of The Gazette. We have a text-based database that you can log in from home using your library card and password, or visit The Gazette Digital Archives courtesy of The Cedar Rapids Public Library.
3. Data-heads will love Winspedia, where you get information on historic gridiron battles, including total wins and losses between competitors.
Categories