Posted by Beth on Thursday, May 10, 2018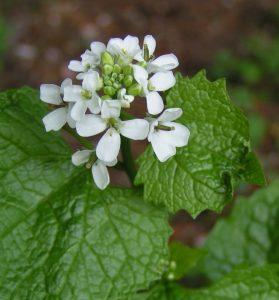 Spring has finally arrived in Iowa City. That means it's time to keep an eye out for Garlic Mustard. According to the Iowa DNR "Garlic Mustard is a rapidly spreading, highly invasive non-native plant. It was introduced from Europe in mid-1800s for medicinal and herbal uses and came to the U.S. without predatory beetles or other natural controls. Garlic Mustard threatens to rob Iowa of healthy, diverse native woodlands."
Garlic Mustard is a woodland plant that favors shade or dappled shade, but it will also grow in sun given enough moisture.  Unfortunately wildlife do not eat Garlic Mustard. Human intervention is the only way to control it.
The Iowa Wildlife Federation suggests that if you're going hiking in your favorite woods take along a big garbage bag and load it up with Garlic Mustard plants before they get a chance to set seed.  Garlic Mustard is not difficult to pull, especially if there has been recent rain. If you wiggle the plant a little then pull at a slight angle, you'll be less likely to break off the stem leaving the roots to re-sprout.
Do not compost Garlic Mustard in your home compost pile.  Home compost piles do not get hot enough to destroy garlic mustard seeds.  However the City of Iowa City Landfill's compost piles reach a much higher temperature than needed, so you may put garlic mustard in your City yard waste containers to be picked up with your regular garbage.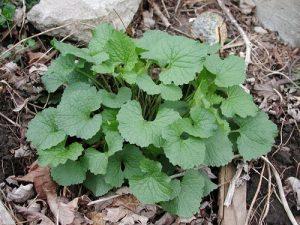 Garlic Mustard is quite easy to identify.  Its a biennial, which means that it doesn't flower until it's 2nd year.  The first year it makes a small clump of rounded leaves with toothed edges.  It is often brighter green than its surroundings.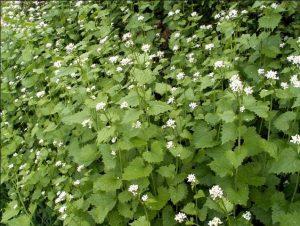 During its 2nd year, the plants spread into patches, and it gets up 12″ tall or taller.  The leaves are more triangular/heart shaped.  By late spring, you'll be more likely to see Garlic Mustard patches in bloom.  Look for heart shaped or triangular coarsely toothed leaves, with clusters of small 4-petal white flowers at the top of a 12″ to 36″ tall thin stalks.
The Friends of Hickory Hill Park hosted a Garlic Mustard Identification Program with a naturalist from the Johnson County Conservation Department. You can watch the video here.
The Iowa DNR has a great printable Garlic Mustard brochure that contains color photographs of different ages of the plant, as well as suggested control techniques for small or large patches.  It's a handy thing to carry with you the first time you look for the plant.
There are also many websites that can help you identify Garlic Mustard. One of the best is the King County, Washington weed identification website.