Posted by Angie on Wednesday, Aug 10, 2016
This spring I joined the Early Literacy Task Force which is part of  the Iowa City Area Chamber of Commerce. This weekend we are excited to host a free family Not a Box Building Party!  The next event will be on Saturday, August 13 at Wetherby Park in Iowa City from 3-5pm.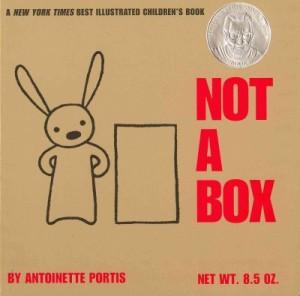 This is a free, all-ages event.  The party will begin with a reading of "Not a Box" by Antionette Portis, a story about imagination and creativity in which a young rabbit's imagination frees him from the constraints that he has just-a-box, but rather that it can be anything he wants it to be.  The children (and adults) will then have an opportunity to let their imaginations run free and construct whatever they can imagine.  There will be vast amounts of cardboard boxes and tape available as well as volunteers to assist and supervise.  Snacks will be provided and at the end of the event at least 85 families will receive their own copy of "Not a Box" to take home with them.  All children will have an opportunity to choose a free book to take home.
Participating organizations include 4Cs Community Coordinated Child Care, Antelope Lending Library, Iowa Children's Museum, Iowa City Public Library, Johnson County Empowerment/ECIA, Strive For Success, Iowa City Community School District, NCS Pearson, United Way of Johnson & Washington Counties, Westergaard, LLC, and Iowa City Area Chamber of Commerce along with generous donations of materials from General Mills.
Visit the Early Literacy Task Force Facebook event at:
https://www.facebook.com/events/147830068974566/
We hope to see you there!