Posted by Mari on Thursday, Jul 20, 2017
We've had a lot of wonderful special programs so far for the Summer Reading Program, including visits from hissing cochroaches, snakes, lizards, a duck, a tortoise and a fancy rat, not to mention Dan Wardell! However, one of my favorite performers to host at the library is a shadow puppet company from Chicago called Sea Beast. Shadow puppetry is considered the oldest form of puppetry in the world. It originated thousands of years ago in China and India. In Western Europe shadow puppetry became popular in the 19th century when the art of cutting silhouettes out of paper was fashionable. In 1926 German shadow puppeteer Lotte Reiniger made the first full length animated film The Adventures of Prince Achmet. Reiniger hand-cut stunning opaque silhouette figures that were moved on an animation table. Sea Beast embodies the evolving history of shadow puppetry in their artistry with an almost extinct technology—overhead projectors.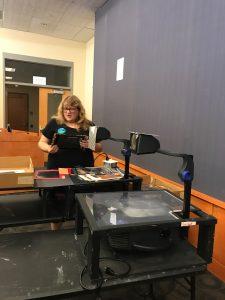 Kat and Mary Kate have visited ICPL three times in the last 2 years, one of those times as part of our Halloween Popo Puppet Festival. For every Sea Beast show I see I discover more ways I am impressed by their craft. This visit they performed Hans My Hedgehog, a lesser known Grimm Brothers' Fairytale.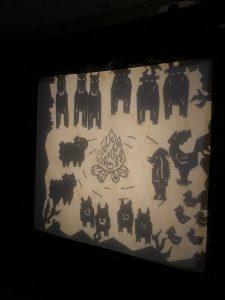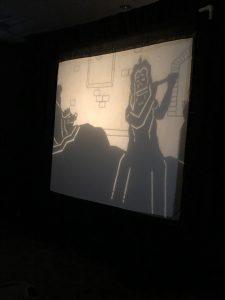 I spent a large part of their performance backstage admiring the various techniques used to successfully execute a puppet show of this caliber. Kat and Mary Kate work with 2 overhead projectors and alternate between performing the current scene and setting up for the next scene. At the scene transition, the performing projector turns off simultaneously while the projector with the next scene lights up. The show runs about 35 minutes, and this transition occurs hundreds of times. For each scene there is a background made on a transparency paper, just like in your high school math class, with hand-drawn lines, and many have moveable black paper squares to reveal different parts of the scene with a split-screen effect (think Kill Bill).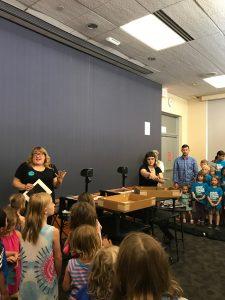 Each scene had at least one moveable shadow puppet, which of course is hand-drawn, hand-cut, and assembled to have creative techniques of movement. In addition to the attention to detail and hours of labor to create hundreds of scenes and puppets with various perspectives, sizes, and angles, Kat and Mary Kate also recorded over a dozen tracks of public domain bagpipe and flute music by local artists for the soundtrack, and recorded their own dialogue in a professional studio. If I haven't gushed eno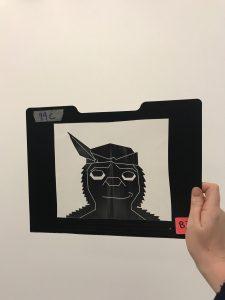 ugh, they bring their own handmade GIANT PVC pipe shadow screen complete with *bedazzled* curtains. Quality.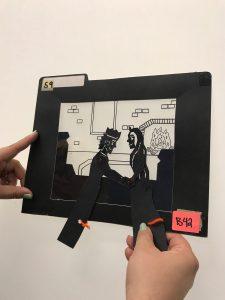 After the show, Kat and Mary Kate invited families backstage to see how the magic happens and to ask any questions. Children and adults alike were in awe of their elaborate set-up, and I continued to pester them with questions after the audience had left. I can't wait to have Sea Beast back for their next performance at ICPL, which is TBD. Their performance is not just for kids, so you won't want to miss it.