Posted by Beth on Friday, Sep 20, 2019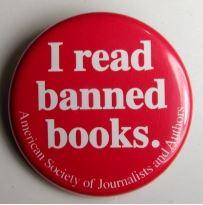 If you've been in a library or bookstore in the last few days, you might have noticed people sporting buttons proclaiming that the wearer is a fan of banned books. This phenomenon happens every September, promoting Banned Books Week.
Banned Books Week was started in 1982, the brainchild of Library and First Amendment activist Judith Krug. It is now an annual event of the American Library Association and other organizations like the American Society of Journalists and Authors (creators of the button on the right) which draws attention to censored books or authors and celebrating everyone's freedom to read.  Libraries and bookstores all over host a variety of events during Banned Books Week, and ICPL is no exception.  Our Carol Spaziani Intellectual Freedom Festival overlaps Banned Books Week.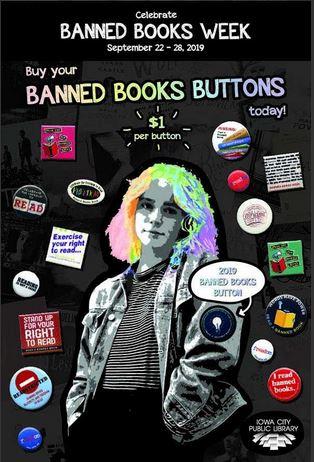 And what sort of festival would it be if we didn't have have pieces of flair for sale?
At ICPL we have a variety of Banned Books Week buttons for sale at the Help Desk for $1.00 each.
Proclaim your support for Banned Books Week and pick up a button or two while supplies last!   For more information about Banned Books Week visit bannedbooksweek.org or the ALA Office of Intellectual Freedom
Categories
Recent News