Posted by Melody on Wednesday, Sep 18, 2019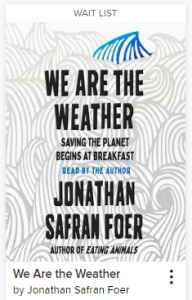 "Why do I have to wait months to check out an e-book? It's digital, so shouldn't everyone be able to have a copy at the same time?" We would love it to work that way, but certain publishers are increasingly restricting access to their digital books.
One publisher—Macmillan—has restricted access to such an extreme that the American Library Association has launched a petition to fight them on it. When a new book is released, Macmillan will allow library systems to purchase only 1 copy during an 8-week window.
What does that mean?
Right now, the Digital Johnson County libraries (Iowa City, Coralville, and North Liberty) purchase multiple copies of popular e-books so that more than one person can read it at the same time. For example, we have 22 copies of the e-book version of Michelle Obama's Becoming. More than 400 area library users have checked out the e-book and 48 people are still waiting. Random House was the parent company who published Becoming. If that company had been Macmillan, the library would only be able to buy 1 copy for all 3 libraries.
Macmillan Publishers want to force consumers to buy their own copy rather than share a library copy that their tax dollars pay for. Only one copy, no matter if it's Digital Johnson County or the rural Iowa libraries Bridges platform, or the Los Angeles Public Library which serves 18 million people.
Here is a sampling of upcoming titles libraries will be restricted to 1 e-book copy of:
The Rise of Magicks by Nora Roberts
Me by Elton John (which already has 9 holds)
The United States of Trump by Bill O'Reilly
Permanent Record by Edward Snowden
The Furies by Katie Lowe
Macmillan has created these restrictions because it believes libraries are "cannibalizing sales" for e-books. In fact, libraries drive overall book sales. We spend the money so you can "try before you buy."
Libraries contribute significantly to publisher sales as well. Last year, ICPL spent $165,000 on e-books and e-audiobooks, out of a total materials budget of $719,000. That's nearly 23% of our budget spent on only 10% of our collection.
Impact on Library Patrons
Beyond long wait lists, readers with visual impairments will experience indirect discrimination. E-books allow a reader to enlarge the font to meet their needs. Not every book is published in large print, and waiting months for a copy is unfair to those readers.
E-books also allow readers who can't make it to the library an easy way to get the book they want. Whether they live too far away, work during the library's building hours, or have other mobility issues that prevents them from parking downtown.
A core tenet of the public library mission is to provide free and equal access to information. Macmillan threatens this mission. Our dollars aren't enough for them. They want yours.
Take Action!
Do libraries hate publishers? No! How could we hate the producers of books, which provide us sustenance for our hearts and minds?! Do we hate digital licensing models that exploit our city-funded budgets? Yes. Yes, we do. Please consider joining with us and signing the American Library Association's petition at ebooksforall.org.
Categories