Posted by Melody on Monday, Aug 29, 2016

Last year, Candice introduced the library blog-reading public to our new online subscription to the Consumer Reports website. Today I'm going to call out some special features that have helped me recently in my search to replace my workhorse of a vacuum cleaner. We've had our little bagless Hoover for eight years before I did something stupid and tried to suck up silver maple helicopters with an indoor vac. Now it's time for me to find its replacement.
First things first, if you've never used our access to the Consumer Reports website, you will want to know how to get there. You need to live in Iowa City or one of our contracting services areas, and have a library card number and password. Check, check, and check? Do this next:
Go to the Online Resources page
Click on Consumer Reports under the "Premium Databases at Iowa City Public Library" section
Enter your library card number and password
Once you see the premium content, I recommend asking yourself this question: Do you need an item ASAP, or do you have time to shop and want to thoroughly research?
I have to buy this ASAP
If your timeline has more control over the type of product you buy, Consumer Reports can still help you. You can look up a specific product's ratings to see whether it's worth the investment and it meets all the criteria you're searching for. It's even possible to log in and look up a product when you are standing in front of it in the store.
I did this this past weekend when I found there was a Sears down the block from where we visiting on Saturday. With the Iowa City and Coralville Sears stores no longer in operation, I had to see if this neighborhood Sears had the Kenmore vaccuum I saw reviews on. They didn't, but they had other Kenmore vacuums and I looked up their ratings to see how they did with my major needs (pet hair and carpets). I left the store vacuum-less, but at least I don't have to worry about returning a product to an out-of-town merchant just because I didn't do my research first.

If you can't find the product you want information on, you can look at the Consumer Reports Brand Reliability section. This section uses survey data to provide general comments from people who own those brands. They note that models within brands may vary, so it's really a bird's-eye view of what options you have.
I have time to research
If you want to take your time and try to buy the product that best suits your needs, take a look at the Recommended section. That is your shortcut to seeing the products whose overall scores rated the highest.
You can then drill down into the details by comparing products according to how well they did on the Consumer Reports Ratings scale. You can choose up to three products to compare, and they will list how well the products match up against each other on a variety of tests. (Note: The compare feature does not work on mobile browsers.) See the following example for how three different vacuums scored.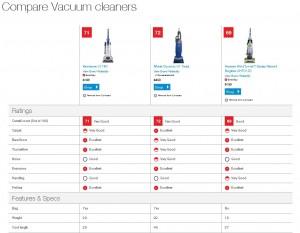 The Ratings section will also let you filter by specifications like score, price, and category of rating, so that you can narrow down the number of models to review. When I filter the vacuum cleaners based on my preferred criteria, it whittles the list of 90 models down to 8.
Compare reviews
When reading reviews of products online, you have to take it with a grain of salt. A reviewer might be motivated to complain about a product or feel the need to seek vengeance because they didn't get what they wanted or something went wrong. It is helpful to compare the reviews you see on the Consumer Reports website with ones that you can find on Amazon. You need to read more than a few angry reviews to get a sense of how the product holds up.
Still need help?
Let us know! Give us a call at 319-356-5200 or visit the Ask a Librarian page to send us an email. We can look through Consumer Reports online for you and let you know what we find.
Happy hunting!
**Original post has been edited to reflect that library fines do not block people from using this service.**
Recent News