Posted by Melody on Monday, Apr 27, 2015
tl;dr If you've never tried out our digital magazines, sign up at Zinio Magazine Collection web page and download the Zinio for Libraries app for Android and Apple!
The Long Version
In the fall of 2012, the Iowa City Public Library began offering digital magazines through a service called Zinio. Two and a half years later, we have grown to offering more than 150 digital magazine titles. We also now offer a more streamlined experience for signing up as a new user.
The Zinio for Libraries app is a new app that allows you to fill out one simple form after clicking "Create New Account" on our Zinio Magazine Collection web page. Once you fill out this form, you are ready to start browsing and reading on your computer.
For those who are new to Zinio, you can download the Zinio for Libraries app for Apple and Android devices. This new app has fewer distractions than the previous app we were required to use. The Zinio for Libraries app will open straightaway to the magazines you have checked out. It will not show you any content that you have to buy in order to read.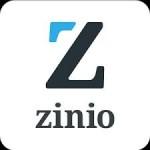 New users, please note: When you go to download the app, be sure to choose the Zinio for Libraries app with the white background and dark colored Z. If you see the regular Zinio app with the dark square and Zinio name in white, that is the app that has all that extra commercial content. Your login information will *not* work on the commercial app.
Already Use Zinio?
You don't have to change what you're doing to keep checking out and reading digital magazines. You can download the new Zinio for Libraries app if you want that streamlined experience. Your login information will work for both the old and new apps.
Windows 8 and Kindle Fire Devices
The new app is not yet ready for use with Windows 8 and Kindle Fire devices. After filling out the Create New Account form on the Zinio Magazine Collection page, people with these devices will also have to sign up on Zinio.com and download the commercial Zinio app like before.
Access Limitations
As with our other digital services, Zinio digital magazines are only available to patrons in our service contract areas: Iowa City, rural Johnson County, and the cities of Hills, Lone Tree, and University Heights.
Questions?
Visit the RBdigital Gateway FAQ page or the Zinio for Libraries FAQ page. Or call the Library at 319-356-5200, stop by the Info desk on the 2nd floor.
Guide to Zinio for Libraries on the iPad [PDF]
Guide to Zinio for Libraries on Android [PDF]
Recent News