Posted by Melody on Thursday, Mar 26, 2020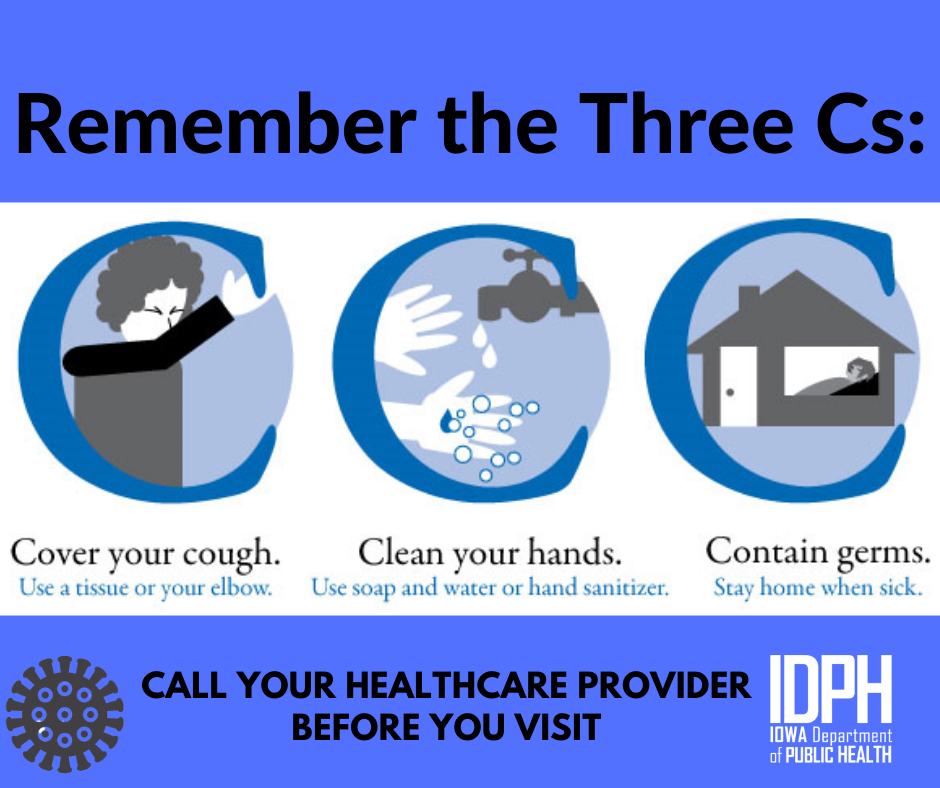 Don't know where to find the best up-to-date information on COVID-19, also known as coronavirus? The following resources have information you can trust.
What are the latest updates?

The State of Iowa has launched its own informational website on COVID-19 in Iowa.
With coronavirus cases appearing in our area, the City of Iowa City is maintaining COVID-19 information on its own website. KCRG has published a list of cancellations, closures, and altered schedules. For questions regarding local response, contact Sam Jarvis, Community Health Manager for Johnson County Public Health, at 319-688-5884 or email sjarvis@co.johnson.ia.us.
The University of Iowa will publish updates on their Campus Coronavirus Updates website.
The Centers for Disease Control and Prevention (CDC) provides a Coronavirus Disease 2019 (COVID-19) Situation Summary on their website. The CDC is a division of the U.S. Department of Health & Human Services.
The World Health Organization (WHO) is providing rolling updates about coronavirus on their Events as they happen webpage. Note that this is the World Health Organization, emphasis on "world," and that information on this page might not describe what is happening in Iowa.
Where can I find general information?
The Iowa City Foreign Relations Council (ICFRC) hosted Dr. Hans House from the Department of Emergency Medicine at The University of Iowa for a lecture on this burgeoning global pandemic. City Channel 4 recorded the lecture to share via YouTube.
The CDC maintains a Coronavirus Disease 2019 information webpage. The WHO provides its own general information page on the Coronavirus (COVID-19) Outbreak, which includes updates, advice, and reports.
The WHO provides a great Q&A on coronavirus that addresses the most common concerns. Travelers might want to consult the CDC's Travelers FAQ and scroll down for the section on "Search COVID-19 risk assessment by country." John Hopkins University's Center for Systems Science and Engineering is hosting a map of confirmed cases, along with total recovered and death counts. It's important to note that this map is only publishing data points at the state level. 
For specific geographic locations mapping COVID-19, visit the New York Times' U.S. Coronavirus Map. 
For people (and librarians!) who really want to dive deep into the information sea, visit the Disaster Information Management Research Center's Disaster Lit (trademark) database. The National Library of Medicine manages this research center. They have their own webpage for information on Coronavirus Disease 2019. The even-more-curious can explore the GenBank sequence data page, hosted by the National Center for Biotechnical Information (NCBI), which tracks some samples of virus sequences.
Do I have COVID-19?
Think you have symptoms? Call 2-1-1. It's like 911 but for general health and mental health questions. United Way partners with other organizations to provide this help to people in Iowa and Nebraska. Their website is 211iowa.org. If you are curious about how clinicians need to approach patients with confirmed COVID-19, the CDC shares Interim Clinical Guidance for Management of Patients with Confirmed Coronavirus. Scroll down to the "Clinical Management and Treatment" section. That section describes what might happen if a patient has a confirmed case.
The University of Iowa Hospitals & Clinics has gathered information on its website about how the hospital is treating potential COVID-19 cases, and what to do if you are experiencing symptoms. 
The Iowa Department of Public Health has issued Instructions for Self-Isolation for Iowans Returning from Countries Affected by COVID-19.
Even if you haven't personally been infected by coronavirus, health officials advise protecting yourself and your family against infection. The CDC's Get Your Household Ready for Coronavirus Disease 2019 provides interim guidance on how to create a household plan of action. 
Coronavirus Fact or Fiction?
The WHO provides advice for the public, including several Myth Busters like "taking a hot bath does not prevent the new coronavirus disease."
NewsGuard's Coronavirus Misinformation Tracking Center has published a list of websites that are spreading Fake News about the virus. If you find yourself reading news that is too unbelievable to be true, look at the website's URL and check it against NewsGuard's list.
Categories
Recent News