Becky
Becky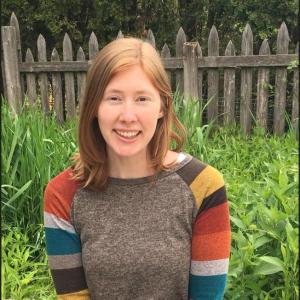 Interests:
Fiction, Fantasy, Science Fiction, Historical Fiction, Mystery, Classics, Nature, Kids
About Me
Where you'll see me in the Library: I work in the children's department and on the Bookmobile. You'll see me at the children's reference desk, doing storytimes, and driving around to different sites on the Bookmobile.
Do you have pets? I have two cats named Banjo and Nutmeg. Banjo loves to hang out on the front porch while we drink our morning coffee. Nutmeg is super sweet and cuddly, but she is terrified of strangers and, for whatever reason, ceiling fans.
What are your hobbies? It seems like I always have a project going on! I love crafting, house-projects and working in the yard. I also love being outside and especially enjoy camping, hiking and kayaking.
What is your favorite thing about ICPL? I'm so lucky to work with other staff who are passionate about literacy, outreach and supporting the community. It's a fantastic place to work.