Heidi K
Heidi K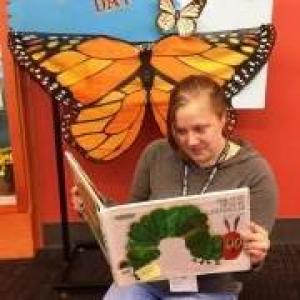 Interests:
Fiction, Memoir, Science Fiction, Historical Fiction, Classics, Fantasy, Short Story, History, Biographies, Philosophy, Poetry, Gardening, Graphic Novels
About Me
Name: Heidi K.
Position at ICPL: Outreach Assistant in Community & Access Services
Where you'll see me at the Library: Help Desk, or potentially wandering the book stacks.
A little about me:
I am originally from Lincoln, NE but have lived in Iowa City for over a decade. My interests (outside of libraries and reading) include yoga, gardening, and hanging out with my dog Mowgli, husband Zac, and baby girl Violet. My tastes are all over the place, but I am drawn to fiction with humor, style, and substance, regardless of the genre or time period. My favorite fiction includes Cat's Eye by Margaret Atwood, Sula by Toni Morrison, and Difficult Women by Roxane Gay. When it comes to nonfiction, I tend to read books about history, social justice, or plants and animals.